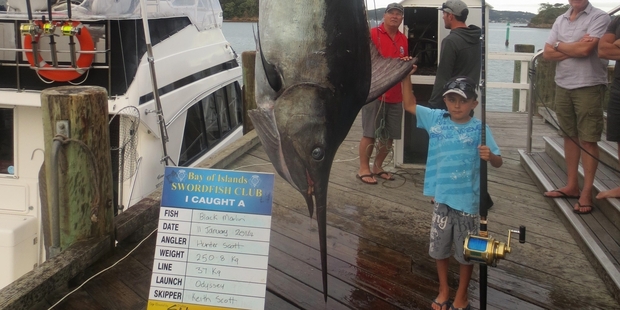 An 8-year-old Northland boy has caught a monster marlin 10 times his own weight, missing out on a new world record by a mere 6kg.
Hunter Scott, of Kerikeri, caught the 250.8kg black marlin near the Hole in the Rock on Saturday. It took the 25kg boy three-and-a-half hours to haul it in.
"It felt good to get it to the boat. And I felt happy the fight was over and I didn't give up ... in the last 15 minutes I felt like I was going to die," he said.
Hunter said he hooked the marlin himself and brought it in, with help only to gaff it and get it on the boat.
His catch was a clear winner of the juniors tournament staged by the Bay of Islands Swordfish Club last weekend and contested by about 100 young anglers from Tutukaka north.
It was his second marlin - the first was a 133.4kg striped marlin caught last year - and just 6kg off a world record in the small-fry class, he said.
The Riverview School pupil, who had been fishing since he was two, caught the marlin from his grandfather Keith Scott's boat Odyssey.
Proud dad Adam Scott said Saturday's fishing started slowly so at 2.30pm they decided to make their way back towards Cape Brett.
"Then just outside the area known as Queens Buoy our plans changed. A swirl behind the lure and it was gone, Hunter grabbed the rod, hopped in the chair, pushed the drag up and the fish took to the air," Mr Scott said. "At that point we all felt a little hollow inside, we knew it was a decent black and looking at the little frame in the chair our chances were slim. We agreed not to tell him what it was at first, we didn't want to freak him out."
After a three-hour battle the young angler hit crisis point, exhausted and in tears. Running out of ideas to keep him going Mr Scott got Hunter's mum on the phone.
"I don't know what she said to him but he had a new lease of life. Ten minutes after the call the swivel broke the surface and at full reach I could finally get a wrap," he said.