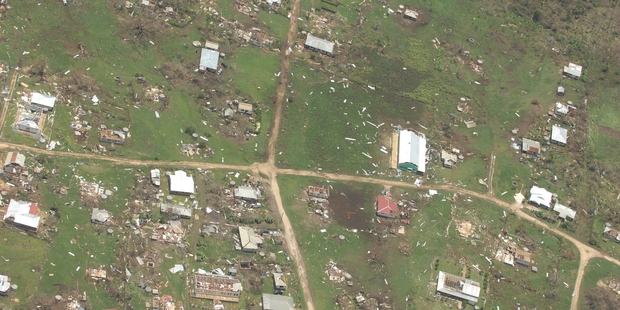 A powerful cyclone that wreaked havoc in Tonga has forced seasonal workers at a Northland orchard to return home and be with their families, some of whom have lost their homes.
At least one person is dead after Tropical Cyclone Ian brought winds of up to 270km/h as it passed over the Pacific Island nation with an estimated 70 per cent of houses destroyed on two islands in the worst-affected Ha'apai group.
Seven of the 100 Tongans working in the Far North hail from Ha'apai and at least one has lost his home.
The workers started work in Hastings before moving to the Far North about a month ago.
Arrangements were bring made yesterday for seven workers to fly back to Tonga and to deal with the crisis.
The rest of the workers who were from other parts of Tonga would move back to Hastings once the apple season started.
Another Northlander, Meliana Huihui of Dargaville, is fearing for the safety of her sister's family, including her six children, who lost their home in Koulo, a small village in Ha'apai.
With communication lines down due to infrastructure damage, Ms Huihui said she has no option but to wait until phone was reconnected on the northern Ha'apai islands.
An estimated 70 per cent of houses on two islands in Ha'apai have been destroyed, including that of Ms Huihui's sister Tokase Aisea and her husband Tu'uanga who live in Koulo, a small village on Ha'apai.
"I've been ringing her but it seems the line's down which is a big worry because all I've learnt is that their home has been blown away but no news of how they are and where they're living right now," she said.
She rang and spoke to her other sibling who lives in Tongatapu, the main island where the capital city Nuku'alofa is located, yesterday morning but said her family was fine.
Ms Huihui was brought up on Koulo and moved to New Zealand about 10 years ago and has been living in Dargaville since 2008.
Ian reminds her of another cyclone that wreaked havoc in her village in 1982 and her family lost their home.
"Only five homes were spared and I remember we have had to re-build our home. My sister is in the same predicament this time around and it's so sad."
The New Zealand Red Cross in Northland hasn't had any request for help from Tonga as of late yesterday.