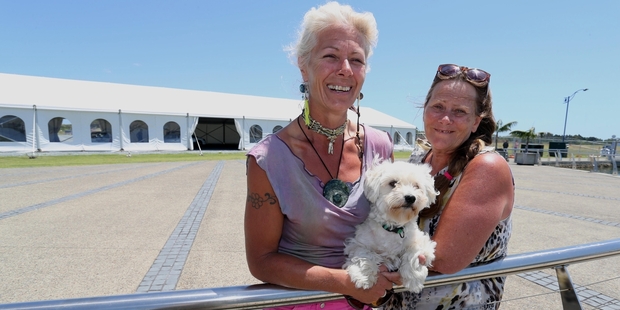 The stage is being set for a one-of-a-kind country and rock music festival in Marsden Cove.
"We've got the fences up and we're starting to set the marquees up," says Lee Colvin, Whangarei resident and organiser of the inaugural Summer Country Music Fest, which is being held tomorrow. Ms Colvin's spent the past few days at the site - Marsden Cove Marina in Ruakaka - getting it event-ready.
"I'm really excited. It's so real now," she said.
Headlining the 11-hour event are well-known artists True Legends (featuring Gray Bartlett, Brendon Dugan and Jodi Vaughan), Suzanne Prentice and the Waratahs; joined by Rebellion, the Sou Westers, Toni Gibson, David Coleclough, The Hipshooters, as well as four Northland acts.
"This will probably be one of the biggest country festivals ever held in New Zealand," Ms Colvin said.
Some of the international acts have already arrived in Whangarei, including Australian-based rock band The Hipshooters, who are spending their days before the event at the beach.
"They [The Hipshooters] love coming here. They're the band to watch if you're into rock."
All artists will meet at the event site tonight for a powhiri "to introduce them to Northland", Ms Colvin said.
"I've been floored that these acts - many of them huge names I've known all my life - [and] have been so into the idea of a concert, by the water, in the middle of summer," she said.
While public support for the event was initially slow, Ms Colvin says it's greatly increased.
The Summer Country Music Fest kicks off at 10am tomorrow, and will be on rain-or-shine. "It's undercover - there's a huge marquee, so it doesn't matter if it rains," Ms Colvin said.
"But the weather forecast is for amazing weather and the venue itself is absolutely stunning."
The Summer Country Music Fest is being held at Marsden Cove Marina, Rauiri Drive, One Tree Point. General admission tickets cost $85, and VIP tickets cost $120. Door sales will be available.
The festival is part of the Whangarei Western Weekend, which includes the Mid Northern Rodeo on Saturday and Sunday at Kokopu Block Road, Maungatapere.
Western Weekend after parties will be held from Friday through to Sunday, at The Old Stone Butter Factory, 8 Butter Factory Lane, Whangarei.