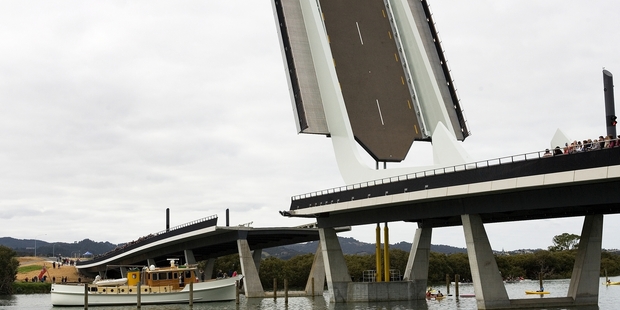 Whangarei's great summer weather has had an impact on the city's new $28 million bridge. The steel bascule expands more than expected once it gets over 26C, meaning the bridge could jam if the temperature is too high.
Whangarei District Council opened Te Matau a Pohe (the Fishhook of Pohe) bascule bridge across the harbour last July, with national transport funding body NZ Transport Agency putting in $14 million of the $28 million construction cost.
Since discovering the problem last month the Whangarei District Council has not been lifting the bridge if the air temperature measured at Whangarei Airport reaches 26C, meaning boaties have to contact the bridge control if they want to find a suitable time to enter or leave the harbour.
The council is starting work today it hopes will remedy the problem, with council roading manager Jeff Devine saying the bridge's unique design is partly behind the situation.
"The bridge is expanding in those high temperatures more than we allowed for. It's the first bridge of its type that's ever been built in the world and we are still working out how to use it," Mr Devine said.
He said steel bridges naturally expand in hotter weather and contract in cooler times and when the engineers were designing Te Matau a Pohe they allowed a 50mm gap for expansion. However, Mr Devine said, last month it was discovered that this was not enough by about 20mm and there was a risk of the bridge jamming if the temperature is too high.
"We can't just make the gaps much wider as it could then leave too big a gap in colder weather and become a potential heath risk," he said. "We also have to look at if the tarseal on the [bascule] lifting section absorbs the heat and makes it hotter than we expected."
Last month temperature gauges were placed on the bridge and the data would be used to work out a solution during work on the bridge this week. Motorists were being warned there were likely to be delays on the bridge over the next few days.
Mr Devine said it was not a catastrophe for the bridge and would not stop it from being fully used and not opening it during hot weather was just a precautionary measure that should be alleviated by the end of this week's work.
Mr Devine said the costs of any remedial work needed would be split 50/50 between the council and contractor McConnell Dowell.
More than 8000 vehicles use the new bridge every day.