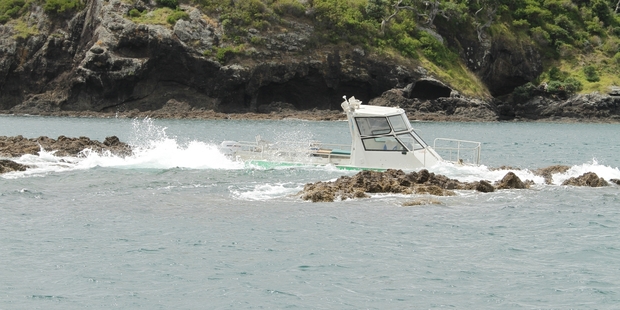 A skipper was hospitalised with broken teeth and ribs and back injuries after his boat hit rocks in darkness at Tapeka Point in the Bay of Islands.
The impact launched the 7-metre Powercat high and dry onto more rocks.
The 52-year-old skipper had to be winched aboard a rescue helicopter and flown to hospital.
Late yesterday the vessel remained on the rocks with a salvage operation likely to involve a crane on a barge.
The incident occurred about 11.30pm on Saturday when the boat was on the way back from a fishing and diving trip with three other men aboard.
Rescuers say the bottom of the vessel's hulls were ripped out.
Bay of Islands Coastguard skipper Tim Roffey said a team of five responded to a call for help aboard Bay Rescue 2 and were able to position the rescue vessel close enough to the rocks to let off three members.
"It was high and dry. It had launched over a rock and landed on a second rock,'' Mr Roffey said.
One of the Coastguard team had just completed a St John paramedic course and assessed the injured man, who had been knocked unconscious, and had broken teeth, ribs and back injures. His neck was immobilised with a collar and he was covered with a blanket before the Northland Electricity rescue helicopter was called to winch him off the rocks.
The other three men had bumps and bruises and were taken to Waitangi where they were checked by St John staff in an ambulance.
The Northland Electricity rescue helicopter left Whangarei at 1.10am and at the scene immediately began co-ordinating with the Coastguard crew on the rocks.
A paramedic was lowered and the patient placed on a special rescue stretcher before they were both winched aboard the helicopter.
Pilot Russell Procter said a spotlight from the aircraft focused on the action below but there was plenty of moonlight and sea conditions were calm.
The man was flown to Whangarei Hospital where he remained in a comfortable condition.
Northland Regional Council harbourmaster Jim Lyall said he would liaise with Maritime NZ and an investigation would follow.
There were plenty of rocks in the Bay of Islands to hit and travelling at the appropriate speed, especially at night, was an important safety tip, Mr Lyall said.
"People [who don't] know the rocks are there have run over them because they haven't given them a wide berth, especially Tapeka Point which is a brutal bit of rock.''
The skipper is in a stable condition in hospital and is expected to be discharged in the next couple of days.