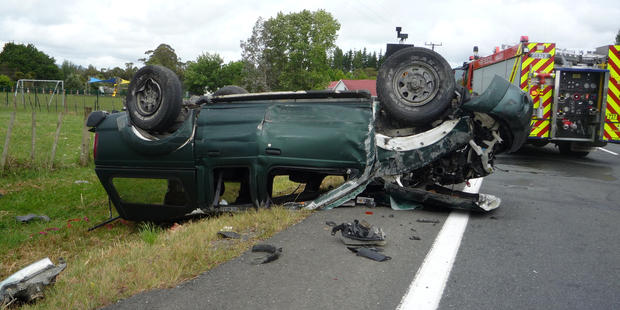 The driver who died in a two-car crash south of Kaitaia on Tuesday was passing a car turning right into a school carpark.
The deceased has been named as Reuben Anthony Murray, 45, of Horeke.
The fatal crash occurred just after 3pm outside Pamapuria School and about 10km south of Kaitaia on State Highway 1.
Both vehicles were travelling north when it is believed the four-wheel-drive overtook the car as it began turning right.
The four-wheel-drive spun 90 degrees then rolled up to eight times before coming to rest on its roof on the edge of the south-bound lane, opposite Pamapuria Store.
His three younger male passengers were taken to Kaitaia Hospital. Their injuries were not thought to be life-threatening.
The driver was believed to have been unrestrained although his passengers were reportedly wearing seat belts.
Constable Kelly Bates said the crash was a reminder for all occupants of vehicles to buckle themselves in. "Wearing a seatbelt or putting young children into approved child restraints will save lives."
The occupants of the other vehicle, a 54-year-old local man and a 42-year-old female passenger, were badly shaken but not hurt. The right front corner of their car bore the brunt of the impact.
The smash left debris scattered over 100m of highway.
Many Pamapuria School children saw the aftermath and attempts to revive the victim.
A police spokesman said the children would be visited by Ministry of Education officials, whose role would include emphasising the need to wear safety belts.
Two Kaitaia Fire Brigade appliances attended with the crews rendering first aid to the victims and CPR to Mr Murray until staff from Kaitaia Hospital arrived by police car. A doctor confirmed he had died.
A St John ambulance crew from Doubtless Bay also responded while local people and other motorists assisted at the scene until emergency services arrived.
A Kaitaia Fire Brigade spokesman described the crash as traumatic for those who witnessed it.
State Highway 1 was closed from Fairburn Rd to Takahue Rd for more than three hours with traffic diverted via Ruaroa Rd.
The police Serious Crash Unit is investigating and anyone who may have witnessed the crash or has information which may assist the investigation is being asked to contact the Kaitaia Police on (09) 408 6500.
The section of highway outside the school is signposted as a school zone but the open road speed limit of 100km/h applies.