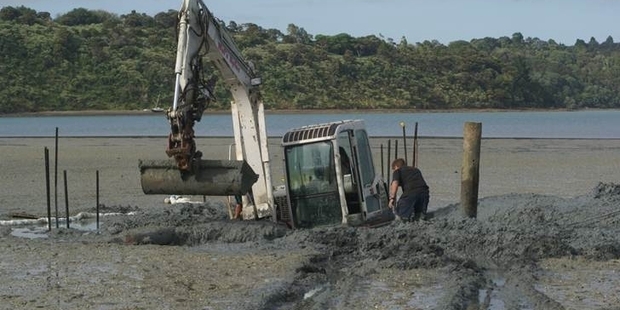 A Whangarei contractor is "seriously" out of pocket after a seven-and-a-half tonne digger was written off after sinking into sand and spending the night in the water.
Keith Whalley, of Wal's Diggers Holes & Bobcats, was "not very happy" yesterday after a rescue operation had to be launched to pull out the digger that got stuck at Parua Bay below Kiteone Rd.
Mr Whalley said the digger was being used to construct a boardwalk for Whangarei District Council along the beachfront when it came to grief late on Tuesday afternoon.
"It was just one of those unfortunate accidents. The digger was laden with gear taking it to the work site making it heavier than normal. It came to a soft spot in the sand and sank," he said.
He couldn't arrange anything to pull out the stranded machine before the tide came in so he returned the next day to retrieve it.
It took two tractors and another digger to dislodge the digger as it had sunken well into the sand by that stage.
Mr Whalley said the digger was a write-off and a replacement, without the same level of attachments as on the lost digger, would cost more than $100,000.
And while he was insured, he said he would still be left seriously out of pocket.
Northland Regional Council said Wal's Holes did everything right by informing it straight away that there was a potential environmental hazard in the marine environment.
NRC spokesman Colin Dall said the council was concerned about any possible fuel leaks into the harbour, but there were no significant adverse affects caused by the digger being in the tide overnight.