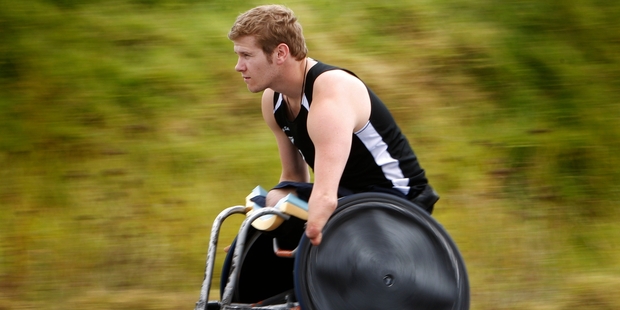 Whangarei champion paralympian swimmer and wheelchair rugby athlete Cameron Leslie is off for the Asia Oceania Zonal Championships tomorrow, hoping for a fair go against Japan.
New Zealand's wheelchair rugby team, the Wheel Blacks, is hoping history will be on its side when it returns to South Africa next week, the site where they last won the Asia Oceania Zonal Championships.
Northern Advocate sports editor Leslie says he's "nervously excited".
"Nervous because it's that whole unknown factor of it's been two years since we played Japan, and they will be our main competition. The last time we played in this tournament was in 2011, before London - a last attempt to qualify for the Paralympics - and we came up two goals short [against Japan]," Leslie said.
"That game was surrounded by controversy because of the changing of my grading [given according to level of disability], which affected the line-ups.
I guess you could call [Japan] our arch rivals at the moment."
After recuperating from a shoulder injury earlier this year, Leslie said he is travelling with a fit bill of health.
Wheel Blacks coach Peter Martin said that if New Zealand can take Japan's ranking, it means there is a possibility of gaining funding from Paralympics New Zealand as well as being invited to top eight tournaments. "We currently have a world ranking of 10th ... [but] there is no doubt within our squad we have some real talent developing, which has yet to show its full potential.
"Our ultimate goal, in this four-year cycle, is a podium finish at the Rio Paralympics 2016. [But], as a small sport, with a small player base, with relatively little support, we need our top athletes to strive to perform at their highest level, to be self-driven, self-motivated, in order they achieve their potential."
Within the current Wheel Blacks' ranks, there are only two players who have competed in more than two world championships - with Auckland's Dan Buckingham and Christchurch's Sholto Taylor setting the benchmark. Martin added their influence was integral to the Wheel Blacks' progression to the Rio Paralympics.
"From a coaching perspective, it is great to see these guys really enjoying their rugby after so long in the sport, and contributing significantly to our team performance and culture."
New Zealand: Dan Buckingham (Pt Chev, Auckland), Cameron Leslie (Whangarei), Sholto Taylor (Christchurch), Maia Amai (Pt England, Auckland), Robbie Hewitt (Te Aroha, Waikato), Adam Wakeford (North Shore, Auckland), Phil Spring (Papakura, Auckland), Gavin Rolton (Waikanae, Wellington). Coach: Peter Martin (Waikato).