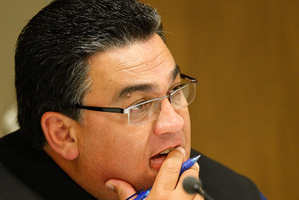 Regular warrant of fitness checks on quad bikes would do more for farmer safety than making riders wear crash helmets, Northland Federated Farmers leader Roger Ludbrook says.
Northland coroner Brandt Shortland has made a series of recommendations for quad bike safety after releasing his reports into the deaths of five farmers on quad bikes, including three in Northland.
Mr Shortland has stopped short of including a ban on quad bikes among his recommendations, saying the machine was entrenched as a vital farm tool.
But he did make a series of recommendations, after examining the Northland deaths of Carlos Frederick Mendoza, 52, from Dargaville, John Roderick (Jack) McInnes, 64, from Hikurangi and Suzanne Claudia Ferguson, 62, from Kaikohe, Albany man Grant Cornelius and Willem Van Der Pasch, from Otorohanga in Waikato.
Mr Mendoza died after spending at least two days trapped beneath his quad bike when it overturned during weed spraying on a farm at Arapohue Rd, in September 2010.
He had been smoking cannabis between 30 minutes to five hours before his death.
Mr McInnes was spraying a hilly slope for weeds when his quad bike rolled and crushed him to death on his farm on Otonga-Marua Rd, on September 26, 2010.
Ms Ferguson died when trapped between her quad bike and an electric fence after trying to tow a trailer of silage up a hill on a property on Gammons Rd, in 2010.
Among the coroner's recommendations was that more training was given to those using quad bikes on farms and that riders wear crash helmets.
Mr Ludbrook said he fully supported more training for those using quad bikes, but it was worth noting that the three Northland farmers killed were all experienced farmers and none would have been saved if they had been wearing helmets.
"Federated Farmers supports any recommendations that makes farmers safer, but personally I think making WOFs compulsory on all quad bikes would do far more for safety than helmets," Mr Ludbrook said.
"Having a WOF would to me be more important than a helmet.
"Training is important too, but I wouldn't like to have to send a worker on a two-day Ag ITO quad bike riding course, because that's something I should be able to teach myself after more than 25 years on the farm."
Coroner's recommendations
Riders should:
* be trained and have the experience required to ride a quad bike in their work
* always wear a helmet
* choose the right vehicle for the right job
* prevent children riding adult quad bikes
* quad bikes should not be referred to as all-terrain vehicles, as that is misleading
* get regular testing of after-market attachments to ensure they do not upset the stability of quad bikes.