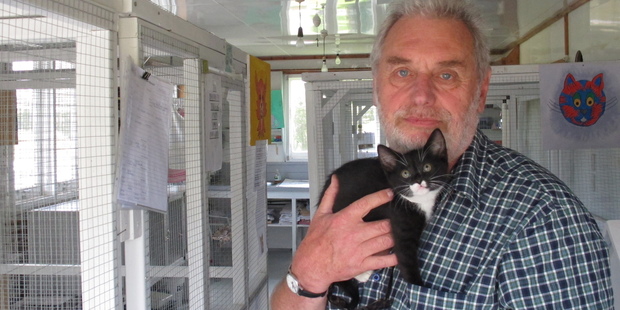 SPCA staff and volunteers in the Bay of Islands have been devastated by two break-ins in two nights in which their offices were ransacked, valuables taken and their hard-earned truck stolen.
The loss of the truck - bought after a year's fundraising and a long search - is an especially serious blow because it is essential to the organisation's fundraising.
Bay of Islands SPCA manager John Logie said the break-ins were a serious setback.
"We're very sad, all of us. All the committee turned up on Sunday to clean up and it was quite tearful. We don't have a lot and to take all the valuables we have and the truck at this time of year, is just devastating. We're 100 per cent community-funded so they're stealing from the community," he said.
The first break-in at the SPCA base near the corner of SH10 and Waimate North Rd occurred between 5pm on Friday and Saturday morning.
Offenders smashed down the deadlocked back door and forced an internal door, making off with two laptops, a digital projector bought with a bequest, and a brand-new TV donated by a Whangarei business for a raffle. They also took a rug and pet products stocked up for Christmas.
A builder secured the rear door but when staff returned at 10am on Sunday they discovered it had been smashed down again. This time the thieves had ransacked the offices, tipping out the contents of every drawer and cupboard. Items taken included personal medication, worming pills, food and a first aid kit - and the SPCA truck.
Mr Logie said it had taken a long time to find what they wanted, a low-mileage Mazda Bongo for picking up furniture for the SPCA op shop, which generated almost 80 per cent of the SPCA's income. Now volunteers would have to use the inspector's car and a trailer.
The only blessing was none of the cats or kittens had been hurt, Mr Logie said.
Supporters have been using social media to spread word of the thefts and have already received a report of the truck on SH1 at Moerewa at 7am on Sunday. Someone else has reported seeing a black ute parked at the adjacent Country Corner on both nights.
The SPCA is insured but faces a $1000 excess for each break-in.
* The 1984 Navy blue Mazda Bongo truck, registration GR5676, has SPCA on the doors, bonnet and tailgate. Other items to look out for are a Toshiba digital projector, a Samsung 40-inch LED TV and two Gateway Pentium laptops. Call Kerikeri police on (09) 407 9211 or Crimestoppers, anonymously on 0800 555 111 with any information.