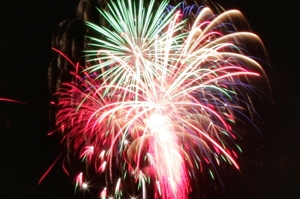 Guy Fawkes would have had trouble keeping his gunpowder dry in Northland last night, when a severe thunderstorm warning had Fire Service officials hopeful rain could also dampen irresponsible activities with fireworks.
Northland Fire Service safety officer Craig Bain said yesterday firefighters had no special alert in place to deal with fireworks last night.
November 5 marks the discovery in 1605 of Fawkes' Catholic conspiracy to blow up England's Parliament.
Annual bonfires to mark Protestant King James I's escape from the Gunpowder Plot assassination attempt have caused many damaging fires and injuries over the past 408 years, but Mr Bain said he didn't think people would be letting off too many fireworks in the heavy rain, hail and winds of up to 110km/h predicted for Northland last night.
"We'll deal with any fireworks problems as they come up," he said.
Firefighters welcome any reduction in fire risks, particularly as Northland is dry after receiving less than 50 per cent of normal October rainfall last month and fire restrictions have already been put in place in the Far North.
Niwa climate scientist Dr Andrew Tait said October was a very sunny month in Northland with more than 125 per cent of normal sunshine for the month.
Near average temperatures - within 0.5C of the October average - were recorded in Northland last month, and from the start of November soils were drier than normal in north-eastern parts of New Zealand, especially Northland, northern Auckland and coastal Bay of Plenty.
While the Niwa forecast for the next three months until the end of January holds no certain respite from these dry conditions, soil scientist Dr Brett Mullan told the Advocate rainfall totals over the period were most likely (45-50 per cent chance) to be near normal and equally likely (40 per cent chance) to be above normal.
With only a 20 per cent prediction of Northland's rainfall being less than average there was less chance of the region experiencing dry conditions.
Temperatures over the November-January period are also likely (40 per cent chance) to be near average or above average.
Dr Mullan said the weather not yet forecast for February and March would also have a bearing on whether Northland endured another drought similar to the ones which have made farming in the region a struggle for several summers.
Northland soil moisture levels and river flows are most likely (45 per cent) to be in the below normal range from now until January 31.