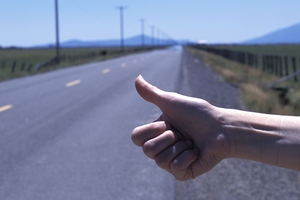 An unsuspecting backpacker got the trip of a lifetime in Northland when he was picked up by a man driving a stolen car who then led police on two pursuits, evaded road spikes and eventually abandoned the vehicle.
It's probably an experience the 25-year-old Finnish visitor will recount at many a party back home - once his nerves have settled.
Kawakawa police Sergeant Kevin Milne said the drama began shortly after 10am yesterday when a white Holden car was spotted by police travelling north about 150km/h on SH1 near Whakapara.
After a short pursuit police abandoned the chase due to the dangerous manner of driving by the fleeing motorist.
Road workers reported seeing the vehicle drive through roadworks at about 100km/h.
Police further north were alerted and spikes were set up 1km south of Kawakawa. However, the driver managed to evade the spikes and continued north.
Mr Milne said another short pursuit was initiated but only lasted about 15 seconds before it was called off due to the dangerous driving.
Members of the public, including a logging truck driver, alerted police the car had turned into Kawakawa. Officers searching the area found the car abandoned in a driveway. It was then a rather shaken backpacker, who had thumbed a ride just south of Whangarei, emerged from the vehicle and pointed out to police where his driver had run to.
The driver was discovered nearby in a vehicle with people he knew.
A 28-year-old man from Auckland will appear in court on charges of unlawfully taking a motor vehicle, possession of tools for conversion, driving while forbidden, dangerous driving and reckless driving.
Mr Milne said the Finnish man was in New Zealand holidaying and had decided to head to Northland and had hitchhiked - uneventfully - all the way. Yesterday he had planned to make the next leg of his journey to Paihia.
"It's fair to say that at times during the ride he was terrified and concerned for his safety," Mr Milne said.
"He was pretty shaken up."
Police gave the backpacker a more sedate ride to Paihia and showed him the sights in the area before delivering him to his accommodation.
Mr Milne said he would also be offered help from Victim Support if he needed it.