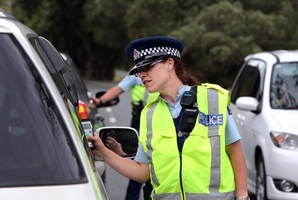 In a bid to drive down the number of repeat drink drivers in Northland, police are combining with other agencies and providing specialised programmes.
The announcement comes just as the Government plans to lower the legal blood alcohol limit from 80 to 50 milligrams of alcohol per 100 millilitres of blood for drivers aged over 20.
Northland has two programmes - Stop Alcohol Impaired Drivers (SAID) and Drive Soba - to help problem drink-drivers.
The programmes have police support with road policing manager Inspector Murray Hodson saying recidivist drink-driving was a real problem in the region.
He said police enforcement of drink driving alone would not stop the problem and community programmes like these helped.
Several drivers were being stopped with high breath alcohol readings and, last week, staff in the mid-north stopped more than 20 drunk drivers.
"Police also stopped a man about 9am on Saturday, who had two previous convictions and blew 1001 micrograms of alcohol per litre of breath."
Mr Hodson said the programmes were designed to help drivers stop making poor decisions that led to their driving under the influence of alcohol.
SAID is administered through RoadSafe Northland with funding coming from the New Zealand Transport Agency, Northland District Health Board and International Safer Communities.
"We want to stop people becoming victims of serious or fatal crashes. It is better to prevent the trauma and not have to pick up the pieces or tell families that a loved one has died or been seriously injured," Mr Hodson said.
RoadSafe Northland co-ordinator Gillian Archer said the three-week programme was free and participants attended once a week for two hours. It was available to anyone who had a first or second drink driving offence or wanted support to stop drink driving.
The programme started in June last year and drivers who took part between June and December had not re-offended.
"The common themes are poor planning, poor decision-making, falling into bad habits and thinking they are not over the alcohol limit."
Drive Soba is run by the Northland District Health Board and programme co-ordinator Bronwen Wood said the more intensive programme was for people who had been convicted for a third and subsequent drink driving offence.
"They focus on the offender's behaviour, poor problem-solving abilities and lack of empathy for victims."
The programme gave drink-drivers behavioural alternatives.