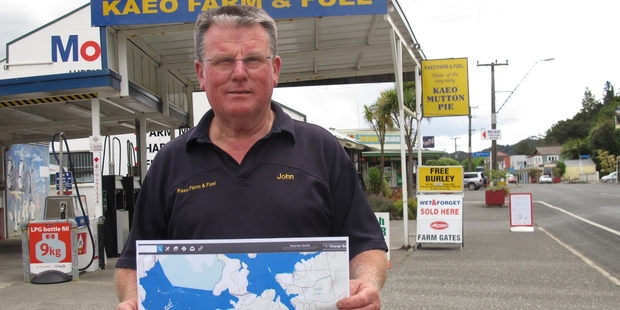 A new map showing areas at risk of flooding in Kaeo doesn't tell locals much they don't already know - but could have repercussions for people building in flood-prone areas if government regulations are tightened up in future.
The Northland Regional Council has released flood maps for the Kaeo and Waitangi catchments, showing the likely extent of 10-year and 100-year floods. All 600 people with property in the risk areas are being notified.
The maps are part of the council's Priority Rivers Plan, which aims to reduce flood risk along 26 rivers, 22 of which have been mapped so far. The purpose is to show where flood hazards are and help inform decision-making by landowners and district councils.
The Kaeo map shows most of the land in the Kaeo and Pupuke valleys is at risk but with surprisingly little difference in the extent of 10- and 100-year floods. The difference would be in the depth of the water.
Kaeo Farm and Fuel owner John Owens, whose business was one of many hit in the 2007 floods, said the map held few surprises.
He was more interested in the repercussions for people planning new buildings or alterations to existing ones in the map's flood zone.
He suspected it would have little effect on his business because it could not be relocated or raised. Instead, he had taken his own actions to mitigate damage, including flood panels which slotted into the doors and a pump. The only thing at risk was the motors in his petrol pumps.
Mr Owens also made use of the regional council's "river cam", which let him keep an eye on the Kaeo River when he was out of town, and a text alert service which warned him when water at Waiare Rd and Kaeo Fire Station hit critical levels. He said the information sent out with the new maps could have done more to explain the implications for property owners, but appreciated the clear explanation of 10- and 100-year floods.
A 100-year-flood does not mean a flood which occurs only once a century, but a flood which has a 1 per cent chance of occurring in any given year. Similarly, a 10-year flood has a 10 per cent chance of happening in any year. In 2007, Kaeo was hit by two 100-year floods just five months apart.
Regional council rivers programme manager Joseph Camuso said the new maps used rainfall and catchment data to replace old maps based on soil types. They showed flood levels and velocities at each site, helping property owners decide where and how high to build. Building on flood plains was already restricted under the district plan but it was possible government regulations could be tightened up in future.
The Kerikeri/Waipapa map would be ready by the end of November, while Whangarei, Whangarei Heads and Awanui would be completed in 12-18 months.
The latest maps, which cost about $300,000 to produce, took into account climate change and new data from Niwa showing rainfall in a 100-year flood was likely to be 15 per cent higher than previously forecast. The maps can be seen here.