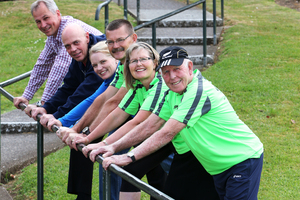 In what is the final the step of a fundraising campaign for the Northland Emergency Services Trust, Markby and Flash are joined by 12 other Northlanders competing in their group.
Flash said the journey to New York has been an emotional one, after a series of fundraising "marathon" stops around Northland. "We were so blown away by people coming and giving away $100 and $200 cheques and notes [for NEST]," Flash said prior to flying to America.
"For me, so far, it has been the biggest mental and physical challenge I have ever undertaken. It started out as a personal challenge, and I had the idea 'if I can do [the marathon] then I can do anything'.
"And, from [the idea of pushing herself] has been the ability to help others through a personal challenge, with the rescue helicopter. [However], I'm looking forward to some spare time soon!"
The More FM radio host, who has never done a full marathon before, said the marathon quest was the brainchild of House of Travel owner and operator Stephen Gillingham, adding that his timing in asking her could not have been better.
"When Stephen rang I'd just finished reading book about running a marathon and thought 'maybe one day I could look at that', and I think the same week Stephen called. It was one of things you just had to say 'yes' to."
For Gillingham, this year's New York Marathon will be his second time round after completing it 10 years ago.
"I ran the marathon in 2003 when I was 40, and I thought 'well, I'll go back when I'm 50'," Gillingham explained. "A lot of people have done half-marathons, which is a huge undertaking in itself, but to think of doing two half-marathons back-to-back is a big call for us mere mortals.
"Part of [going to the New York Marathon] is to inspire others. You don't have to do a marathon, but set some extensions in life and do things beyond your comfort zone, and do things for other people.
"It's such an amazing event, of all the marathons in the world it is the most, I guess, iconic. They have 2.5 million spectators, you're running this event and there's a whole city supporting."
Also going is 89-year-old Colin Thorne who will be the flagbearer for the New Zealand contingent of runners.