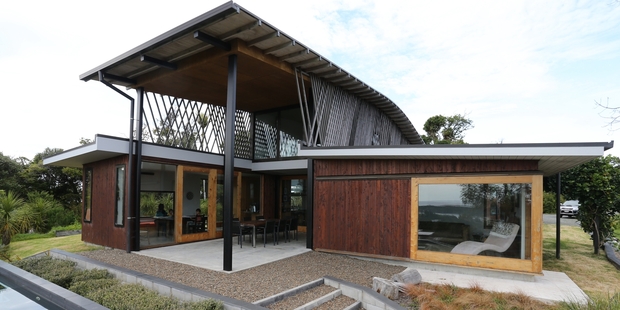 A house set in the treetops overlooking Ngunguru estuary has won awards in the home and sustainability categories from the New Zealand Institute of Architects Incorporated Local Awards.
The house, built by RHJ Builders and designed by Wellington-based architects Tennent and Brown Architects, features weatherboards exterior and interior. The awards came as a surprise for Richard Hilton-Jones of RHJ Builders as he completed the home in 2009.
"The architects obviously left it for a while, and when we found out we were getting the awards we all went down to Auckland for it," he said.
He was pleased with the awards that recognised the hard work from the team involved. The materials used to build the family home were sustainably sourced, and local product was used.
The NZIA said about the home: "The architectural concept of a house as bush camp has been wonderfully played out in form and materiality in this captivating family home sited on a tree covered hill top with beautiful narrow coastal views.
"The design provides a variety of indoor and outdoor spaces, both intimate and soaring, in which to enjoy the site and the delightful sensation of being up in the tree canopy."
The whole house was designed to maximise sun.
The solar energy used to warm the house and on-site wastewater disposal and water collection tanks contributed to the sustainability award.
The cypress and macrocarpa for the cladding screens and timber joinery, was locally sourced and milled as well as sustainably grown hoop pine plywood utilised for all cabinetry.
"A warm, comfortable family home with a variety of spaces in which to enjoy the sun or retreat from the sea breezes."