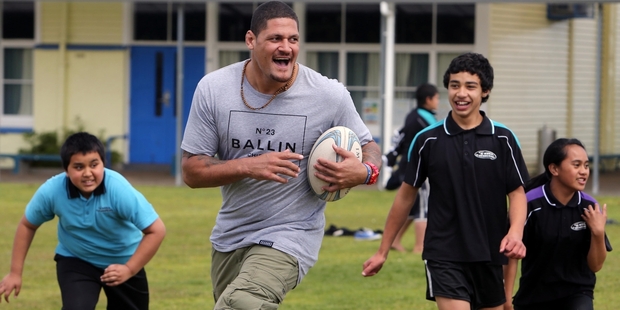 NRL star Willie Mason and Northlander Awen Guttenbeil say next year's NRL Nines competition in Auckland is made for players like Kaitaia's Elijah Taylor and Dargaville's Sam McKendry.
The pair said while the competition was a new concept for rugby league, it would cater for fast and agile backrowers similar to Taylor and McKendry.
"I'll probably play a couple of minutes here and there," Mason said, before stopping in at Te Kura O Otangarei for a game of touch with the kids. "But it'll mainly be backs and backrowers who are ex-centres, so you need to be fast.
"I think it'll be a lot more expansive and better for the bigger guys because all we do at the moment is run into brick walls, but if we get a bit of grass we can showcase our skills.
"It's not going to be like your sevens where defence is out of it, with the Nines you're still going to have that element of rugby league in it and people are going to get hit hard."
Guttenbeil agreed with Mason, noting that a player like Taylor would be likely to excel.
"Totally [he] would fit in," he said, who is a former Portland Panther and West End Jumbo. "I think Simon Mannering is going to do really well, he's got some pace, a fend, and agility. Your back rowers are probably going to be your big men."
Although tempting, Guttenbeil joked that he would not be making a comeback unless he was allowed on for one minute and got a cut of the prize money.
For Guttenbeil though, returning to his hometown with Mason was a great excuse to come home and get involved with the community.
"[Duco Promotions] asked me to take [Mason] around the country and I saw I'd bring him to Whangarei, the old home town, and I thought 'yeah got to check out the home town'. It's nice to be back home."
Mason added that the drive from Auckland to Whangarei was an exciting one.
"It's beautiful. It's a good drive. I didn't get bored once. It was just new to me.
"In Australia just like you drive from Newcastle to Sydney - I've done that drive 1000 times - and you know what you're looking at.
"It's only a two-hour drive [from Auckland to Whangarei] but there was that much more to see, farms and a bit of ocean, it was that much more scenic."