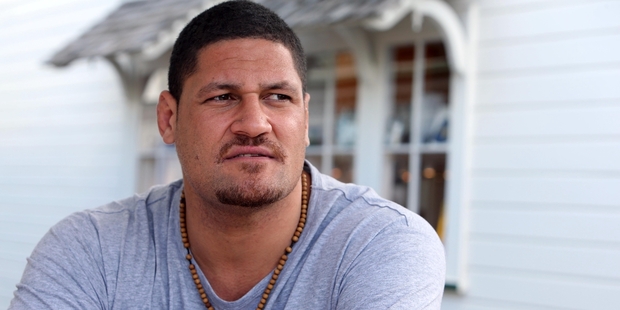 While firefighters near Willie Mason's Newcastle home battled bushfires, he kicked some balls with the children of Te Kura O Otangarei.
The NRL star was visiting Whangarei yesterday with Northland sportsman Awen Guttenbeil to promote NRL Nines. However, Mason's thoughts were with his friends and family back home in New South Wales.
"It's devastating because it's right near a lot of my family and I live there.
"My heart goes out to everyone affected by it," he told the Advocate.
"It's obviously awful, people in New Zealand ... they feel the effects also because when you guys have stuff over here we feel for you guys and vice-versa.
"My heart goes right out. I've got a couple guys who live out in central Newcastle and out in the bush so they're affected by it."
Meanwhile, Northland rural firefighters were waiting for the call to cross the ditch and battle massive fires in the Blue Mountains in Australia that have destroyed more than 200 homes and razed almost 40,000ha of land.
A state of emergency was declared which gives police, fire and other emergency crews the power to force evacuations, shut down public utilities including electricity and gas, and enter or demolish buildings.
Managing director of Whangarei-based Forest Protection Services Kevin Ihaka said their team had been alerted they could possible be deployed to New South Wales.
But he said it was difficult to know what skills they would need to help with the blaze. The Whangarei team have been sent to work on fires in Victoria on six other occasions.
"Once we get called to respond we will have to deploy within 48 hours," Mr Ihaka said.
Whangarei may also possibly see haziness on the horizon from the massive fires.
As of 9am yesterday, an air quality continuous monitoring device operated by the Northland Regional Council on Robert St in Whangarei didn't pick up any impact from the fires.
"However, if we get westerly wind in the next few days, we may possibly pick up some impact," council senior monitoring manager Colin Dall said.
Factors such as the amount of fire particles and weather conditions would dictate any effect on Whangarei or any part of Northland, he said.
Mr Dall said westerly winds that were predicted for the next few days didn't guarantee any air pollution in Whangarei.
Dargaville, he said, would see any effect first but any difference in effect between Dargaville and Whangarei was likely to be less than minor.
"There is a possibility that the air quality continuous monitoring device at Robert Street may pick up an increase in particulate matter(small solid or liquid particles such as dust, fume, smoke and mist or fog) due to the bushfire depending on wind direction, but any increase is not expected to be significant."