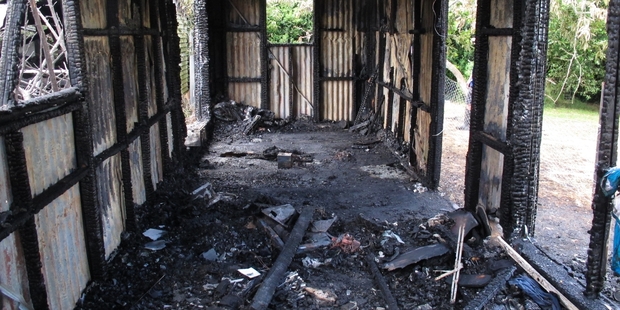 A series of narrow escapes from sleepout fires has firefighters urging Northlanders to install smoke alarms in garages and other outbuildings where people sleep.
Fire safety officer Gary Beer said in the latest case a four-bedroom home with a large garage and sleepout in Ruawai was badly damaged by fire on the night of October 5.
Fortunately, the boy in the sleepout was still awake when the fire broke out and was able to wake his parents and two brothers inside the house.
Otherwise the fire could have led to multiple deaths, Mr Beer said.
The house had a single smoke detector but he could not establish if it was working at the time.
Just a few days earlier, on the night of October 2, Masterton man Archie Ormsby, 44, died when a garage he was using as a sleepout caught fire.
National fire investigation manager Peter Wilding said at least one New Zealander died every year in a fire in shed, garage, caravan or other building used as a bedroom.
"Since 2005, 11 people have died in these types of fires and we can find no evidence that any of them had a smoke alarm installed."
Smoke alarms could alert people living in the house as well as those inside the sleepout.
"Having a smoke alarm in a sleepout significantly improves someone's chances of getting out alive if there is a fire."
Using a garage as a bedroom was a common practice for many extended families, for teenagers and as a low-cost rental option. However, garage fires grew quickly and were often fed by stored items such as boxes, furnishings and flammable materials such as petrol and solvents.
Mr Wilding said a long-life smoke alarm should be installed in every room used for sleeping including sleepouts, garages and caravans, even when they were only used occasionally.
Each year in New Zealand there were more than 300 fires in garages, sleepouts and caravans. In 97 per cent of cases no smoke alarms were installed, he said.
In January a 15-year-old boy was lucky to survive a blaze in his sleepout near Ngawha, after he woke up to find his bed on fire. The next morning his parents bought smoke alarms for every part of the house.