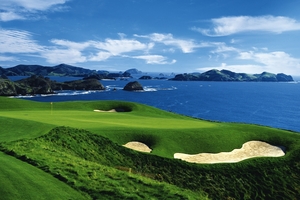 It's official - golf courses can be added to the list of things Northlanders do well.
Northland's Kauri Cliffs, at Matauri Bay, has been voted New Zealand's No1 golf course for the second time running, fending off Taupo's Kinloch and Paraparaumu Beach courses.
Kauri Cliffs' director of golf Ryan Brandeburg said the title - which is decided bi-annually by about 50 respondents from among experienced golfing professionals - was an honour to receive.
"The setting is what does most of it," Brandeburg said of the Matauri Bay course's cliffside location.
"We found a great piece of land and were able to enhance it with putting a golf course on it.
"While most golf courses around New Zealand are built with bulldozers we've made ours with shovels.
"Obviously there are a lot of great golf courses in New Zealand and we're building [golf's] reputation. To have that number one spot is fantastic.
"We know a lot of our friends are chasing us."
While many believed the Kauri Cliffs course was only for a privileged few, Brandeburg stressed the course was open to the public and that it had no members.
"We want to make sure people are aware we're open to the public. While we have guests at the lodge who play golf, the lodge has taken a life of its own. There's a lot of misconception about who can play.
"We have a fair amount of locals play, quite a few from Paihia Kerikeri and up to Kaitaia, [but] the further out from the region we get the less frequent the visitors."
New Zealand's top five golf courses are well regarded in golfing circles and the tight rankings show how good the golf courses are, with Kauri Cliffs retaining top spot and Kinloch moving from number three to number two.
Deciding on which courses are the best are a range of New Zealand PGA golf professionals, tour professionals - including Greg Turner, Michael Hendry, Grant Moorhead, Richard Lee, Fraser Wilkin and Mahal Pearce - leading golf club professionals, top golf course superintendents and one of New Zealand's leading golf course architects.
Each professional is asked to rank his or her top 25 golf courses, and from that the top 15 North Island and top 15 South Island golf courses are recognised. Earlier this year the Kauri Cliffs course was voted number 74 in the list of the world's top 100 golf courses, improving on its 2011 ranking of 80.
This week the lodge was voted number one in the top 100 hotels and resorts in the world in the Conde Nast Traveler Reader's Choice Awards.