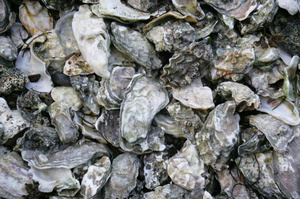 Three Northland men with nearly twice as many oysters as they were legally allowed have been nabbed and face a fine.
Fisheries officials were tipped off to the illegal seafood gathering by an alert security guard at Opua just before midday on Wednesday.
Ministry for Primary Industries Northland compliance manager Darren Edwards said a Bay of Islands security firm contacted officials after they were concerned about a group of men who were diving for oysters in the Opua Marina area. The security guard followed the men in a vehicle once they had finished diving.
With the help of police the vehicle was stopped.
When inspected by Fishery Officers they found 1400 oysters which had been gathered by three divers.
Mr Edwards said each diver was entitled to 250 oysters so the group was in possession of excess oysters.
The men, all from Kawakawa and aged between 35 and 40 years old, will be issued with infringement notices.
"The pleasing aspect of this apprehension was the excellent work done by the local security officer in notifying both the Ministry for Primary Industries and the police who played a crucial role in stopping the vehicle and assisting fishery officers," Mr Edwards said.
With summer approaching it was a timely reminder for the public to make themselves familiar with the daily bag and size limits before they headed out fishing and diving.
Mr Edwards also reminded people seafood could only be bought from a commercial fisherman or a commercial fish premises and "not from the backyard of someone's house".
People selling the fish illegally can be prosecuted, and those buying illegal fish can also be prosecuted and fined up to $250,000.
*For more information you can visit the website www.fish.govt.nz and download the application on a smartphone or you can free text 9889.
The public are also reminded that if they see any suspicious activity you can contact the ministry of 0800 4 POACHER (0800 476 224).