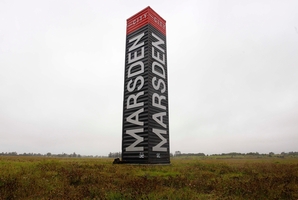 Census figures revealing a population growth spurt in Ruakaka could be a reflection of strong support for a new Marsden City, a project that may include a new manufacturing plant and an IT university and data centre.
The 2013 Census shows the "usually resident" population for the Marsden Point-Ruakaka area has grown from 2913 in 2006 to 3543 in 2013 - the biggest population increase in the Whangarei district.
The Marsden City master agent for North Holdings developers, Peter Jennings, says the population surge has a lot to do with the increase in development, and it's only just the beginning.
He's in Whangarei today to meet a manufacturing industry leader in the hope of securing a manufacturing plant for Marsden City.
He said details would be announced once the agreement had been reached.
An IT university and data centre could also be in the mix, he said, with the Hawaiki Cable planned to be built within the next two years in Whangarei.
Plans are pressing ahead for the 14,000km submarine cable, which will carry massive amounts of electronic data, enough to transfer 468 DVDs per second on a connection linking Australia, New Zealand, Hawaii and the west coast of the United States.
Meanwhile, North Holdings is creating a mixture of commercial and residential development, spread over 135ha within the existing Northgate and Port Marsden industrial estates. "The council structure plan allows for another 40,000 residents," he said. He estimates 450 houses and apartments will be going into Marsden City itself, with another 88 residential sections along Tamure Place off Peter Snell Rd.
North Lakes at One Tree Point has also just been consented for 310 houses.
Commercial property is also taking off. "I've got retail shops and restaurants going in. There is a heck of a lot happening."
Whangarei Economic Development Group (WEDG) chairman Barry Trass said the population growth and development were exciting.
"There's so much industrial and residential land out there, all ready to go," he said.
"I think it's coming of age. The reality is that it's closer and closer to Auckland. With all the roading upgrades, it's only one-and-a-half hours away."
The cruise ship business would also boost growth. "[The area's] got huge advantages, beautiful beaches, climate. It's about to take off."