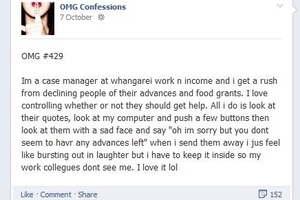 Work and Income has dismissed claims that an anonymous post on Facebook shows signs of dissent in the Whangarei branch.
An anonymous submitter posted on the popular "OMG Confessions" Facebook page to 93,400 followers of the page, saying they were a case manager at the Whangarei Work and Income branch who got a thrill from declining people food grants.
"I'm a case manager at Whangarei Work n Income and I get a rush from declining people of their advances and food grants. I love controlling whether or not they should get help. All I do is look at their quotes, look at my computer and push a few buttons then look at them with a sad face and say 'Oh, I'm sorry but you dont seem to have any advances left,' when I send them away I just feel like bursting out in laughter but I have to keep it inside so my work colleagues don't see me. I love it lol."
The post went viral online with 859 comments and 104 shares online. People commented on the post saying they were horrified, while many Whangarei residents commented on the post, angry and speculating at the identity of the submitter.
Work and Income head Debbie Power did not believe there was any truth in the post.
"I'm sorry that people are taking this anonymous posting seriously," she said.
"There is no evidence that it's genuine. I don't believe that any of our staff take pleasure in declining help and find it even less believable that they would boast about it. Be assured that people entitled to help from Work and Income will get that help and that our staff work here because they care about people and want to help," Ms Power said.