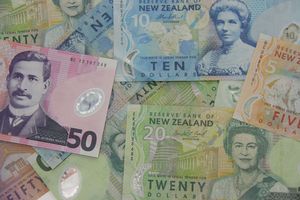 Money doesn't grow on trees or fall from the sky but thousands of dollars did flutter from the rear of a black four-wheel drive as it cruised through a small Northland town yesterday.
Locals rushed to gather up the cash as it swirled in the breeze on Hikurangi's main road George St, just outside the old dairy factory site, about 8.40am.
One of the first to realise what was happening was Shayn Rouse of Rouse Motorcycles, who was on his way to work.
"I was talking to my farm worker on the phone when I saw a four-wheel drive vehicle come around the corner towards me. It looked like it had confetti coming out the back of it," Mr Rouse said.
"Then I realised that it was money and I pulled over."
He quickly discovered that what he thought was newspaper confetti were crisp $50 notes.
"They were everywhere. There was money all over the road."
The unexpected cash dump caught the eye of those in the area who were on their way to work or school and about 15 people made the dash for cash.
"I had handfuls of cash and reckon I had about $3000 myself," Mr Rouse said.
"Everyone there couldn't believe what was happening."
Mr Rouse estimated there could have been up to $20,000 on the road.
Moments later, the driver of the black vehicle returned and the locals handed over the dosh.
"I said to him 'here you go bro' and gave him the money. He said thanks but didn't really seem too stressed about it," Mr Rouse said.
The man collected up the money from the locals, got in his vehicle and drove off.
"If he hadn't have come back, I would have collected it up and taken it to the police. I've lost cash before and had it returned to me, so I would do that for someone else," Mr Rouse said.
The police were contacted but the man had gone by the time they arrived.
Hikurangi police Senior Constable Gavin Benney said the car was registered to a person in Mount Maunganui.