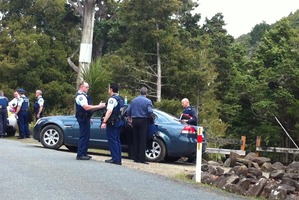 UPDATE:
Police are interviewing a 50-year-old man at Whangarei police station following the death of a 36-year-old male at a Whananaki North property. The house in under police guard and will this afternoon be forensically examined.


UPDATE 12:55pm
A man has been walked from the property surrounded by police officers and put in to an unmarked police car.
He is being transported to Whangarei Police Station for questioning.
Forensic examinations of the house are to be carried out this afternoon.
Whananaki North is a small coastal settlement 42 km north-east of Whangarei.
Whananaki North Rd connects to the settlement from State Highway One, just north of Hikurangi, and winds through lush green countryside and bush for more than 20km before reaching the beach settlement.
The road is sparsely populated and the house on the property police are focused on is about a hundred metres up a driveway, high on the hillside amid native bush.
****************************************
UPDATE: 11:35am
Northland Police have confirmed they are responding to an address in Whananaki North Road, Whangarei to reports of a suspicious death.
Police received the call at about 9.45 this morning and are working to confirm the circumstances of the death.
**********************************************
UPDATE: 11:15am
Police have established a cordon on Whatmough Rd and are interviewing people coming out of the scene and stopping anyone from going in.
Police are focusing on a house on Whananaki North Rd.
*********************************************
Police are at a scene in Whananaki, around 20km north east of Whangarei, where one person is believed to be dead and one injured.
Armed offenders squad, specialist dog unit, Northland police and ambulance staff are at the scene.