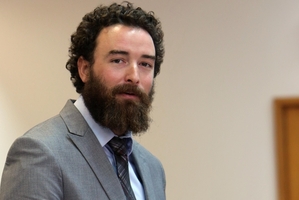 Whangarei's youngest ever district councillor has given his valedictory speech after not standing for re-election, but Aaron Edwards said this may not be his last foray into politics.
At 25 Mr Edwards is believed to be the youngest person ever elected into public office in Whangarei when he was voted into the Okara Ward with 3068 votes in the 2010 elections. He admitted at the time to being green in terms of political service and political leaning.
On Wednesday he told the council he had to thank voters who placed their faith in somebody they knew little about and he hoped he had upheld that trust.
"And I hope we continue to have more and more diverse representatives so that we have a true representation of our community," Mr Edwards said.
He felt he had contributed to the council during his time, even though his colleagues around the council table had not always agreed with him.
"I was opposed to the second harbour crossing, and [for a while] I was the only one opposed to the Hundertwasser Arts Centre.
I also went out on a limb [over the removal of trees from Mander Park to make way for widening State Highway 1] because I believed [his stance on those issues] were in the best interests of Whangarei district and ratepayers."
He said the council's disagreements generated most publicity, but it was the times when the council worked best together that were often ignored, such as the work done on improving the quality of Whangarei Harbour.
Things he was most proud of during his term included the council's strong precautionary approach to the release of Genetically Modified Organisms, the walking and cycling loop around the Town Basin and setting up a youth advisory group.
Mr Edwards said he would remain in Whangarei another six months before going elsewhere to work.
"But I'm not ruling out a return to local or national politics ... you haven't seen the last of me."