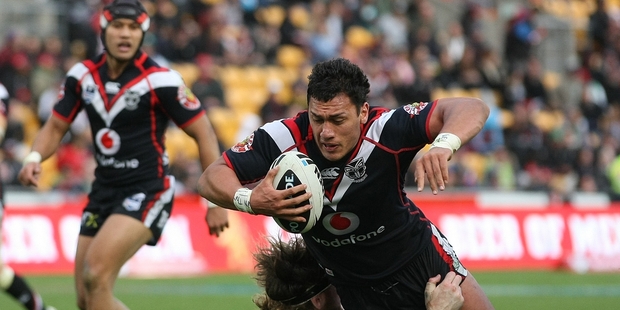 Kiwis coach Stephen Kearney says Elijah Taylor may have to step up and cover for the absence of Jeremy Smith during the World Cup in the UK.
The loss of the hard-hitting and experienced Smith was a major surprise when the squad was named on Tuesday and Kearney said Taylor could be the player to fill the void the Newcastle player has left in the squad.
"I thought Elijah played a big part of linking the Warriors' forwards with their backs in the middle part of the season when they were really hitting their straps and with Jeremy Smith gone, he can expect to do big minutes," he said.
Smith was keen to play but is unavailable for family reasons and Taylor, the 23-year-old former Owhata lad, will have big boots to fill covering Smith's role as a link man and his defence around the ruck.
"We've got a fairly big pack that he can feed off in terms of a player support role, to push up with them when they're carrying the footy and also he will do a lot of hard work when we're defending," he said.
Another Far North product, Broadwood's Adam Blair - one of the stars of the previous world cup victory - didn't make the final cut for the squad.
"One of the toughest calls I had to make was to ring Adam and tell him he wouldn't be a part of the squad, he's had great success for us since his debut in 2006 but one thing I know about Adam is that he's desperately keen to regain his Kiwi jumper and if he's playing good football he'll get that opportunity."
The Kiwi coach said the pool of players available for selection is getting bigger and that can only be a real positive in terms of development.
"The one thing we now have with this Kiwi group is a lot of top players so you know you're going to have to be playing good footy to make the team," Kearney said.
"It's unfortunate that Adam has had a rough time since transferring to the Wests Tigers and there's a lot of circumstances behind that but I've got no doubt that he will come back and play for the Kiwis again."
Kearney said Dargaville's Sam McKendry was another player who would be back in black after missing out on World Cup selection. McKendry is probably unluckier than Blair, after a strong second half of the season, but he was left out so Kearney could include the NRL Champion Roosters' starting props Jared Waerea-Hargreaves and new cap Sam Moa.
Bryson Goodwin and Dean Whare will form an inexperienced centre pairing with Kristian Inu included as another option.
"We all know what Kris [Inu] is capable of and it's my job - along with the group's senior players - to get the best out of him and that's what we plan to do," Kearney said.
Rooster Shaun Kenny-Dowall will miss the tournament due to a jaw injury suffered in the NRL final, while Manly's Steve Matai also missed the cut.
Captain Simon Mannering said a good start would be vital if they want to defend their title.