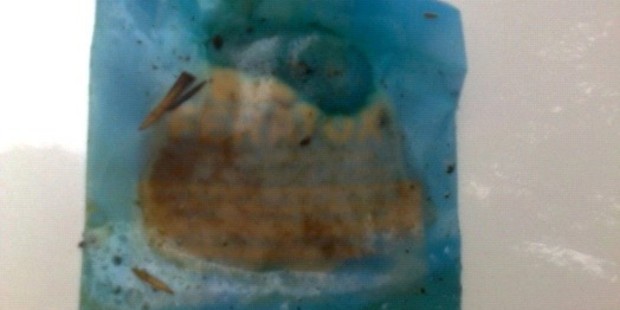 Blue packets of possum bait - described as a quick killer - have been found on Northland roads.
More than 200 packets of the small packets of cyanide paste have been found and authorities now fear more could remain, having been scattered along the road or dropped from a car window.
Northland District Health Board's Paul Reid, who is tasked with collecting the packets, said cyanide paste was extremely toxic to humans.
His biggest fear was that children could come into contact with it. "It's a major risk during the school holiday."
He warns if anyone comes across possum bait to call police or the DHB immediately.
Mr Reid said touching the bait then touching the face or mouth would be enough to cause harm.
Cyanide poisoning causes light-headedness, unconsciousness and can be fatal.
Mr Reid said he had collected possum baits before but had never seen them left on the roadside so brazenly.
Cyclists alerted authorities to 150 small blue packets of cyanide paste on Whakapara Rd, near Russell, on September 21. Just over a week later, a further 58 packets were found on Oromahoe Rd, McIntyre Rd and Whangae Rd in the Mid North.
The baits were believed to have been dumped a couple of days before they were discovered, raising fears there could be more.
Mr Reid said he and other officers quickly collected the packets and disposed of them safely.
"They looked like they had been scattered along the roadside as if dropped out of a car window," Mr Reid said.
A controlled substances licence is needed from the Environmental Protection Authority to purchase cyanide paste.
Cyanide paste was commonly used by people looking to kill possums for their fur, Mr Reid said.
Police said anyone who illegally dumped the poison could face a criminal nuisance charge, knowing that such an act would endanger the lives, safety or health of the public.
The maximum penalty for the offence is one year's imprisonment.
The offence also breaches the Hazard Substances and New Organisms Act.
Police are also keen to hear from hunters who may have noticed any vehicles in the area acting suspiciously.
If anyone comes into contact with the substance they should wash with warm soapy water. If they believe they may have ingested the substance they should seek immediate medical assistance.
If anyone has information about the illegal dumping of the bait they can contact their local police or call Crimestoppers anonymously on 0800 555 111.