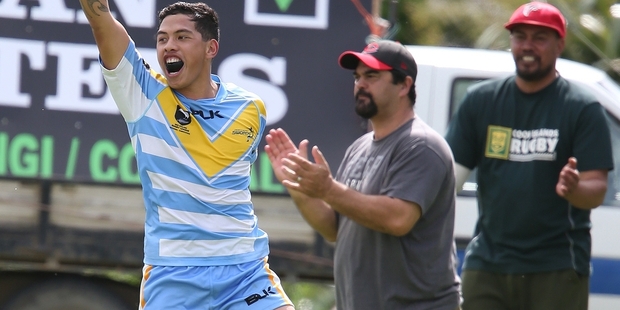 The Northern Swords 17s came from behind to beat the Wellington Orcas and now only Auckland stand between them and a place in the final of the national competition.
The Swords stormed back from a 10-16 halftime deficit to record a 28-20 win at Hikurangi on Saturday afternoon to set up a virtual sudden death semifinal against Auckland this weekend.
"We knew Wellington would come out firing because they were beaten by Central Districts last week so they had a lot to play for and that made it a very hard game for us," coach Benson Selwyn said.
The win already sees the U17 side as the most successful Swords team of all time with four wins in their round robin series to date but Selwyn said they want more.
The match was in the balance at halftime and it could have slipped away from them like the match against Counties Manukau had the week before, making Selwyn's halftime talk terser than usual. "I gave them the choice of staying in the north and being good club players or showing they had the ability to cross over the ditch and play there - and they proved they has what it takes," he said.
James Dean completed a fantastic double in the second spell by ghosting over untouched from dummy half while hooker Hane Rudolph also bagged a great double.
"It was a fantastic performance right across the team - these guys from Kaitaia, Kaikohe, Dargaville and Whangarei are all putting their hands up for greater things," he said.
Winger Pana Matiu and Ioane Job completed the try-scoring while skipper Daniel Fullop kicked two conversions. Centre Kaleb Atkins and second rowers Gabe McBinney and Haimona Gierney were standouts while the four props deserve special mention after winning the battle up front.
"They drove the ball up the middle all day and made great yards, with Otaua's Piri Croft in particular continuing to improve with every game," he said.
The two top teams in the competition meet in the final and with Counties, Auckland and Northland only separated by points differential making the clash between Auckland and Northland at Cornwall Park on Saturday the decider.
"We've got to beat Auckland to make the final and I know we can take them with the frame of mind we're in - they've just have to get past the idea that Auckland are unbeatable.
"They won't be able to beat them if they psych themselves out and that's my job - I'll be spending the week trying to psych them up for the game," he said.
The injury toll continues to rise for the side but Selwyn is hopeful that none of the injuries sustained this week will keep players away from the Auckland game.