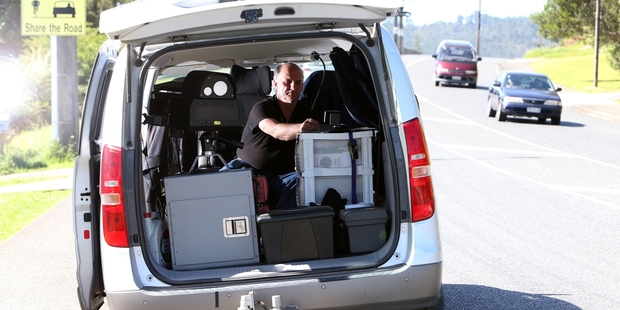 Shane Holland has snapped thousands of speeding Northland motorists from behind the lens in his speed camera van but ironically he's shy about having his own photo taken.
Mr Holland was one of 10 police staff recognised for their efforts at an awards ceremony at Whangarei Police Station yesterday.
New Zealand's top officer Commissioner Peter Marshall was on hand to present the awards and said Northland was well-served by the team of officers based in the region.
Mr Holland was recognised for 35 years of service - 13 of which have been spent in charge of a speed camera van. He has plenty of interesting tales to tell involving not only disgruntled motorists, but ones who appreciate the camera presence on the side of the road. One motorist with a heavy foot was snapped four times in 20 minutes in Ruawai - travelling at 80km/h in a 50km/h zone. The fastest he has clocked anyone travelling was a motorcyclist at 188km/h and the fastest car was snapped doing 184km/h.
Some motorists stop to express their disgruntlement others just use hand gestures. "I get a lot of hand signals and I just wave back. But two out of three give friendly toots on the horn," Mr Holland said.
"Me sitting in the van doesn't force anyone to speed - they catch themselves."
He said to pass the time he listened to country music and read hundreds of books. "I love this job and being part of a team. With out a doubt the cameras have contributed to the lowering of the road toll along with the Highway Patrol units."
And has he had any speed camera tickets of his own? Just one - and that was before he was in charge of the cameras. He was doing 61km/h in a 50km/h zone at 6.15am. He paid up. Mr Holland also worked for 20 years in Whangarei's Ministry of Transport driver licensing office.