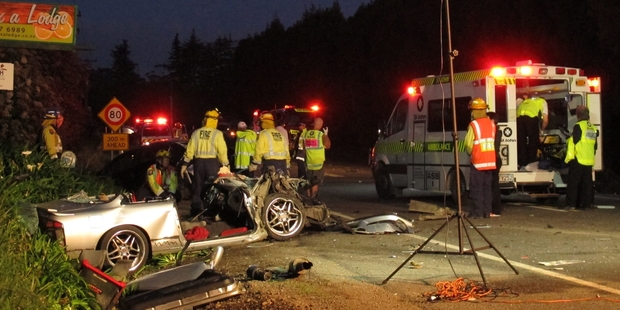 A man is dead and two teenage girls badly injured after two crashes minutes apart on State Highway 10 near Kerikeri.
The tragic chain of events began about 5.45pm on Saturday when a motorist heading north lost control and crashed into a roadside ditch about 1km north of the Kerikeri crossroads.
The driver, a Northland man and the car's only occupant, died at the scene.
A number of cars heading south had stopped on the other side of the highway to go to the man's aid when another southbound car, a modified sports coupe, slammed into the back of a parked Volkswagen.
The driver of the coupe suffered only moderate injuries and was taken to Bay of Islands Hospital by St John Ambulance.
His two female passengers suffered multiple injuries and had to be cut out of the wreckage by volunteers from the Kerikeri Fire Brigade.
They were airlifted to Whangarei Hospital by the Northland Electricity Rescue Helicopter, which had landed in a nearby paddock.
Their injuries, which were thought to include fractured limbs, were serious but not life-threatening.
They are understood to be Year 13 students at Kerikeri High School and aged 17-18.
Police will not release the name of the deceased driver until all family members have been informed.
The scene was blessed by a minister before work began to clear the road.
At least one other vehicle, a courtesy car belonging to a Kerikeri panelbeating firm, was caught up in the carnage of the second crash but its driver was uninjured.
The occupants of the Volkswagen were also uninjured. They were trying to help the man fatally injured in the first crash when their car was hit.
Sergeant Kevin Milne, of Kawakawa police, said it appeared the first accident occurred when the driver of a northbound vehicle lost control and crashed off the road.
The occupants of a southbound car stopped to offer assistance when a third vehicle travelling south came over the brow of a hill and struck the rear of the parked car.
An investigation by the police Serious Crash Unit was underway. It was too early to say what had caused either accident, he said.
Visibility was good and the road dry at the time, but the Advocate observed skid marks stretching more than 80m from Blue Gum Lane to the point of impact in the second crash. The highway was closed until well into the night as debris was cleared away and investigators examined the scene. Traffic was diverted via Waimate Rd and Wiroa Rd.
The crashes occurred directly outside a backpackers' lodge. A distressed 18-year-old German backpacker who ran to help the victim of the first crash then witnessed the second, a hostel worker said.
The fatality provisionally brings Northland's 2013 road toll to 12.