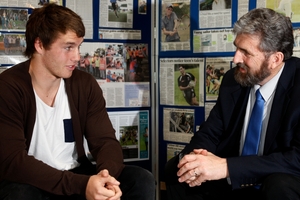 Jake Heenan is one of many Northland rugby players to turn their chosen sport into a career and a lifestyle. Last year Jake was signed by former Blues coach Pat Lam at the Connacht rugby club in Ireland after having captained the Baby Blacks at their World Cup. The hard-running loose forward took some time out to catch up with the Northern Advocate after making his first start for Connacht on the weekend.
How have you been finding Ireland, big change from New Zealand?
Ireland's a lovely country and the people here are very hospitable. The Connacht rugby set up is much the same as others I've been involved in and in that regard not too much difference. Galway is also a very cultural and community- based city similar to Whangarei which I'm really enjoying.
What's it like working under Pat Lam, you had some crossing with him in New Zealand with the Blues set up, right?
I first met Pat with the Blues Secondary Schools in 2010. Pat's a very professional coach who knows the game very well and has worked hard to build a positive team culture. He is very process-focused rather than outcome-focused, and demands a very high standard of rugby and professionalism from everyone in the Connacht organisation.
What about playing alongside Craig Clarke?
Weka is a great man to have around. Not only very knowledgeable about the game, he is also the ultimate professional. He works hard at his game, communicates well, and always trains to win. A great man to aspire to.
What do you think has been your biggest learning curve so far?
Dealing with the professional aspects of the game to maximise individual and team growth. We only have six- to seven-day turnarounds to prepare for our next opponent, and often with a fairly beaten up body.
Having come from Whangarei, would you have pictured yourself playing in Ireland as a teenager?
I would have never seen this coming. It's a difficult thing to recommend to someone, as everyone is after something different from rugby, and everyone will get there a different way. I personally aspire to be one of the greatest players in the world and right now Ireland's the best place for me to develop my game. It's also a great opportunity to see the world.
Do you plan on coming back to New Zealand and possibly playing for the Taniwha?
I'm currently signed with Connacht for three years and have no plans after that. I have a lot of pride in coming from Northland, and if that is where my journey would take me, I would be very proud to represent my home province.