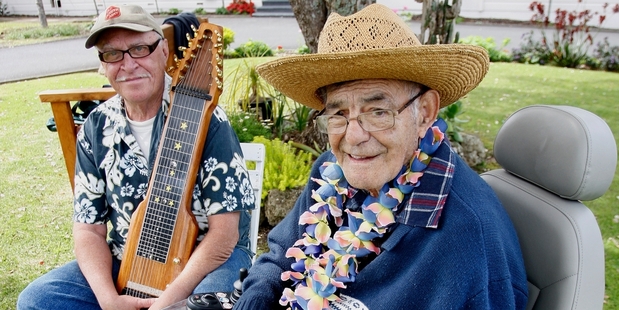 Doug Lomax was one of the most popular resident steel guitar players at Auckland's hottest swing clubs back in the '40s and '50s.
After a stroke paralysed his entire left side, the 82-year-old Whangarei resident can no longer play. But he wants to keep the magic alive and is the patron of a new Whangarei club - the Lomax Steel Guitar and Ukulele Club.
A steel guitar is an instrument placed horizontally on the lap. Strings are plucked with one hand, while the other hand changes the pitch of the strings with the use of a bar called a steel.
Mr Lomax, who was also a maker of Lomax brand steel guitars, says it's important to continue the interest so the music can live on.
While he's frustrated he can longer play, he's eager to pass on his skills. "I've got a couple of people interested in learning from me and luckily I can still teach," he said.
His favourite memory is performing in Hawaii - the birthplace of the steel guitar - as recently as 10 years ago.
"That was a real buzz."
Club founder and host Glenn Cross says Mr Lomax is the inspiration behind the formation of the club. "Doug's interest is to make sure that interest in the steel guitar does not fade away."
"It was only recently that Doug suffered a stroke that stopped his playing, but the heart of this man still beats for the love of his steel guitar," he said.
Mr Cross learned to play on his father's steel guitar when he was 16, and remembers knowing Mr Lomax's name back then.
"Doug is the generation of steel guitars ahead of me - I was always aware of his presence," he said. "He was the resident steel guitar player, along with his band, at Auckland's hottest clubs in the '40s and '50s - when swing was hot.
"Doug is also highly regarded by the Hawaiians, who love Doug's empathy for the Hawaiian sound."
Mr Cross says the Lomax Steel Guitar and Ukulele Club is kicking off with their first gathering next Sunday in the courtyard of the Essence cafe.
Other instruments and ukulele players are welcomed.
The gathering will begin at 1pm and go till 5pm, with individual performances, tuition and group interaction, Mr Cross said.
The Lomax Steel Guitar and Ukulele Club will continue to gather at the Essence cafe courtyard every fourth Sunday of the month.