America's Cup fever is up as fans flock to see race they hope will bring trophy `home'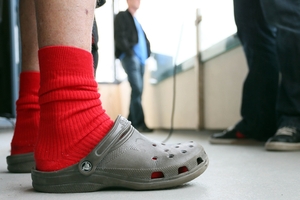 The Whangarei Cruising club had a bottle of bubbly chilling in anticipation of a win and a defibrillator ready in case the tension got too much during yesterday's America's Cup racing.
They were all ready to pop the cork on Thursday if Team NZ had pulled off a win against tough competitors Oracle. But the American crew proved they had too much boat speed and were victorious. The second race was called off due to high winds.
But the loss hadn't shaken the faith of hundreds of Northland fans, who were back in front of their television screens yesterday - many wearing their lucky red socks.
Team NZ just needed to win one more race to take the America's Cup.
At the Whangarei Sailing Club American yachtie Len Horrick, who is moored in Whangarei, declared he didn't have a foot in both camps, but had his feet planted firmly on the side of Team NZ.
"I want New Zealand to win. I haven't had a television for 28 years so this is the first one I have really watched - it's fantastic."
Should the hype about bringing the Cup "home" extend north of Auckland, the team at Sport Northland might be eager to jump aboard the "and up here" ship.
However, that seemed a tack too far yesterday when Sport Northland's role in international boat racing was confined to the Lean with Dean tactic.
About 15 staff gathered in front of the television at their Kensington Park headquarters for the nail-biting 12th race in San Francisco, in which Oracle beat Team New Zealand.
Despite the disappointment of a Kiwi loss in the one race of the day, the uproar that ensued was very sporting.
Meanwhile, commentator Martin Tasker's reference to a traffic jam caused by Team NZ fans in Kerikeri, which he described as the home of the world's best sailors, drew a cheer from the 70-plus people who had squeezed into Fishbone Cafe to follow the action on a large screen.
The Kerikeri crowd included Northland sailing royalty such as the Ferris family, there to support family member and Team NZ number 12, grinder Derek Saward. Also feeling the tension as Oracle took an early lead was extreme fisherman and ITM Fishing Show star Matt Watson.
Elsewhere in the Bay more than 40 keen sailors followed the race at the Opua Cruising Club, many of them wearing their red socks, and plans to let the kids at Kerikeri Primary watch the race on a big screen in the school hall were foiled by the event's sheer popularity, as TVNZ's live streaming service overloaded.
For more America's Cup excitement in Northland, see page 11.