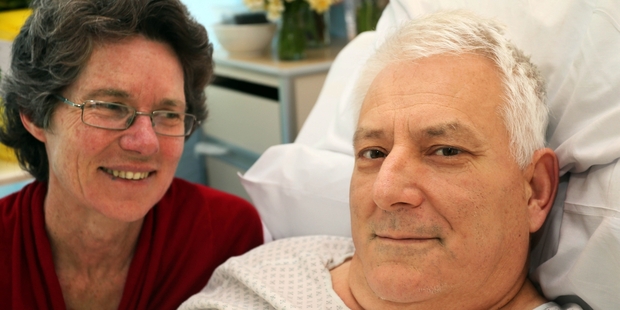 A Kaikohe man is determined to continue his election campaign despite losing his leg in a horror farm accident.
When part of John Vujcich's leg was chopped off in a rotary slasher, he was certain he would bleed to death if he stayed where he was.
Nor could he see any way of getting back to his house, more than a kilometre away behind a series of gates.
''I knew there was no way I'd be found in time. I didn't believe I could make it back either, but I knew I had to do something.''
Mr Vujcich and his wife, Elodie, say his survival is ''an absolute miracle''.
The couple own Bay of Islands Computers in Kaikohe and Waipapa; Mr Vujcich is contesting seats on the council and district health board in the upcoming local elections. He is determined to carry on with his campaign, despite the horror accident.
Mr Vujcich had taken his rotary slasher to the back of their Bisset Rd farm about 3pm on Sunday when he made the mistake of standing on the deck while it was running to fix damage done by a bull earlier in the day. His right leg went through the deck and into the blades.
He saw his mangled leg and severed arteries and knew it was serious. He called out to God for help, pulled himself free and used his belt as a tourniquet to stem the bleeding. His foot was hanging on by a piece of skin. Somehow he climbed back onto his tractor but promptly drove into a drain and stalled the motor.
''I thought, this won't look too good in my obituary,'' he said.
He managed to restart it, backed out of the drain and flattened the first gate. There was, however, no way of driving through the second, which was next to a deer shed and still 300m from the house.
He freed his remaining foot - his boot had somehow become caught - and climbed down, hopping over to the gate while still holding the tourniquet tight. By then his strength was starting to ebb. He lost his balance and fell onto his injured leg.
Mr Vujcich knew there was no way he could get back onto the tractor; he also knew there was no way his wife would hear him from the house. What happened next, they say, was no coincidence but part of the miracle.
Mrs Vujcich had been out delivering election leaflets. On a brief return home she decided to sweep out the deer shed before heading out on her next errand.
She heard her husband's tractor slow as it approached the gate - she realised later it was because he had no foot to apply the brake - then heard him call out in pain. She could see blood and his foot at a strange angle, but he told her to go back to the house and call 111. She ran home, her legs feeling like lead. All Mr Vujcich could do was try to stay conscious.
First on the scene was one of his best mates, St John paramedic Gordon Magon.
''I thought, he's good value ... I was still holding my tourniquet. I was starting to get a bit incoherent, I told him not to tell my mum.''
He was flown to Whangarei by rescue helicopter and has had two operations so far with one more due on Thursday to clean up the stump. His leg has been amputated below the knee but he is determined not to give up his election campaign.
''I don't see why it should stop me. It'll be a few months before I'm on my feet again, but I'm still standing. I made the decision months ago.''
Mr Vujcich's sister Yvonne stood in for him at a candidates meeting in Kaikohe a day after the accident.
Mr and Mrs Vujcich are convinced faith played a part in his survival.
''When it happened I cried out to God, help me ... I expected the worst. There was no way I would have survived if I'd stayed there, but I couldn't see how I'd get back either.''
Both praised the emergency services and hospital staff, and say they have been humbled by a flood of messages, offers of support, flowers and prayers.