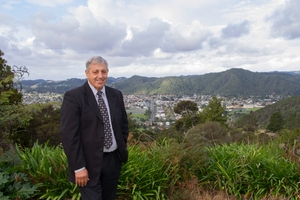 Whangarei's district council is meeting today to consider whether action is necessary against its chief executive after he dismissed an employee for signing a mayoral candidate's nomination form.
Jan Walters - personal assistant to CEO Mark Simpson and the Whangarei mayor - was dismissed for signing former mayor Stan Semenoff's mayoral nomination, after Mr Semenoff says a council staff member observed Mrs Walter's signature but said it was ok.
"If they had a problem with it, they should have flagged it with me then," Mr Semenoff said.
Mr Simpson said as an employer "we must not and will not comment on specific employment issues because of our obligations under employment law".
However, in general any council employees were subject to a code of conduct that contained special rules around political processes and neutrality. "If the code of conduct is breached an employment matter may arise."
Mr Semenoff says Mrs Walters had also voluntarily raised the nomination with Mr Simpson, and was not immediately told it was a problem. However, later in the day, she was stood down.
The situation is clouded by the fact that Mr Simpson's executive assistant Ford Watson had helped mayoral candidate Warwick Syers with advice on some of his election statements. Mr Semenoff said if this was the case, Mrs Walters should not have been sacked.
The Whangarei District Council was to hold a special meeting today, to discuss the sacking and what, if any, implications there were for Mr Simpson. Mr Semenoff said Mrs Walters had also signed his nomination form in the past, "way back".
Meanwhile, Mr Syers said Mr Watson had provided "wordsmithing" in his own time and had permission to do so from Mr Simpson. Mr Syers said the situation with Mrs Walters was an employment issue between her and Mr Simpson and if she felt she had been treated unfairly she could lodge a personal grievance case. However, he said he would expect Mr Simpson to have very good reasons to sack any employee.
Mr Syers said Mr Watson was not part of his campaign team or involved in any campaign discussions.
Mr Semenoff said the situation was not fair to Mrs Walters.
"That is not right - to have one rule for one and not for the other," Mr Semenoff said.
According to Local Government New Zealand it is not illegal for council staff to sign nomination forms for local-body candidates but it would advise them against it.
LGNZ said staff were allowed to nominate candidates as long as they were from the same ward, but it was best if they did not because of the perception of a conflict of interest it created. Mr Simpson said: "As CEO I also have a duty to ensure that the organisation operates in a politically neutral way.
"This becomes even more important during the pre-election period. This includes ensuring adherence by staff to agreed processes and protocol."