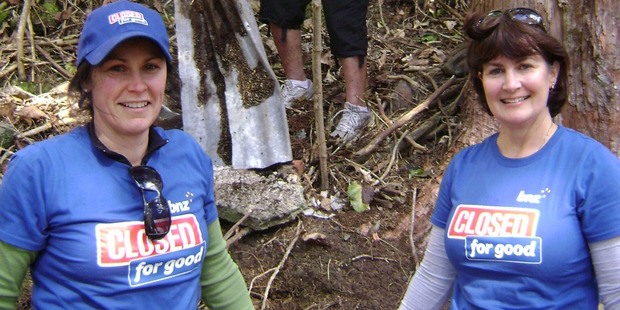 Every year, the Bank of New Zealand closes branches all over the country so its staff can head out to assist in their local communities. Organisations, such as Kiwi North, apply for their help for a day and we were lucky to acquire their assistance this year.
Last Wednesday, a bright and bubbly team of 27 BNZ workers arrived to help with the three tasks for the day.
The kiwi need fresh leaf litter from uncontaminated areas of bush and the team set about collecting this. We have one juvenile kiwi from Rotorua in half of the indoor enclosure and, soon, we will be getting another kiwi from Christchurch.
The other half of the enclosure has to have new leaf litter so the smell and possible parasites of our older birds will not cause any difficulty.
Our mature kiwi, Kura and Manuiti, have vacated the indoor enclosure for life in the new outdoor pens.
They will stay in quarantine until they are released on to a Northland offshore island. And those outdoor pens also require new leaf litter.
A new tramway will eventually be put in from Kiwi North to Barge Park. Unfortunately, the tram line has been used as a dumping ground for rubbish. The BNZ team worked hard there and filled two large skips.
We have some young kauri in front of the Clarke Homestead, which will be used for education about Kauri Die Back.
People heading to any kauri forest can learn about controlling possible contamination and the importance of protecting tree roots.
The Northland Regional Council has given Kiwi North $1000 for the materials needed to protect the young kauri root systems, which will prevent visitors from getting too close and possibly transferring any "die back" contamination.
The BNZ team built barriers and laid bark paths under the supervision of Gerry Brackenbury, who has responsibilities as our environmental consultant and also chairman of the Pukenui Forest Trust.
Kiwi North is most grateful for the tremendous effort the BNZ staff put in on the day. Their cheerful attitude and tremendous energy made a great contribution to Kiwi North Heritage Park.
Kiwi North (Whangarei Museum, Kiwi House and Heritage Park) is open daily from 10am to 4pm.