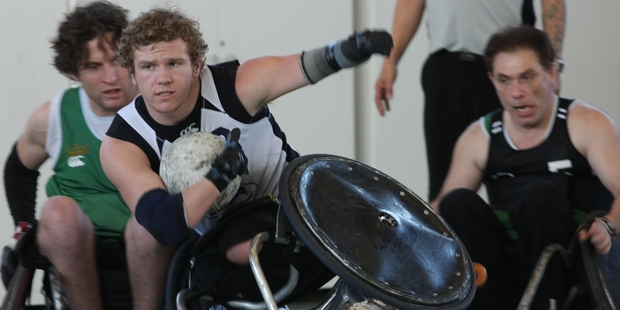 Northland's Cameron Leslie is joining the Wheel Blacks team as they take on the world's top two ranked wheelchair rugby teams, Australia and USA.
Fresh from winning gold from the World Long Course Swimming Championships in Canada last month, Leslie is today jetting across the ditch to Sydney but is still recovering from a shoulder injury.
"The injury is all right," Leslie told The Northern Advocate. "It's probably around 85 to 90 per cent - still a little bit sore but it's manageable. "Wheelchair rugby is very different in the sense that the shoulder is not being aggravated with every stroke or push."
He joins Paralympic gold medallist wheelchair rugby players, Auckland's Dan Buckingham and Christchurch's Sholto Taylor, in the 10-strong squad as they battle the world's best at a rare outdoor event in Sydney, with a purpose-built court and grandstands built in Cathedral Square.
"I'm yet to play USA - I've played Australia a few times - but the USA are the 'wow' team of wheelchair rugby - the top dogs, the best of the best," Leslie said.
Wheel Blacks coach Peter Martin said the purpose for the Wheel Blacks attending the Tri-Series is three-fold.
"To grow our level of experience within the squad, to further develop and test our play strategy under pressure, [and] to provide further opportunity for players to step up to compete under highly competitive environment," he said.
"I'm looking for players to make their mark rather than wait for, or follow, others who lead. This is a great opportunity for us as a squad to test [ourselves] against the best in the world, so we need to see it like this and I hope players are looking forward to the challenge as much as I am."
Martin said the team's ultimate goal is a podium finish at the Rio Paralympics 2016.
"We currently have a world ranking of 10th, so are a long way from that goal at present. As we continue to improve, gain experience and develop our game and tournament strategy, I believe we are very capable of success with that [goal for Rio]."
Within the current Wheel Blacks' ranks, there are only two players who have competed in more than two World Championships. Players like Buckingham and Taylor set the benchmark for others to aspire to.
"There is no doubt within our squad we have some real talent developing, which has yet to show its full potential," Martin said.
"As a small sport, with a small player base, with relatively little support, we need our top athletes to strive to perform at their highest level, to be self-driven, self-motivated, in order they achieve their potential."