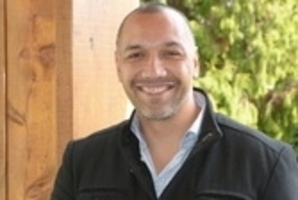 The new principal of Pamapuria School says he felt a sense of moral responsibility to apply for the job.
Rikki Horlock, the 33-year-old deputy principal at Maketu Primary School in the Bay of Plenty, said he was happy where he was and at first wasn't keen when invited to apply for a principal's position in Northland. A friend had shoulder-tapped him, saying a rural school was having a hard time attracting suitable applicants.
"But when she told me the name of the school, that changed the way I thought. That community needs help. If I have the skills to help that community, what kind of person would I be if I didn't even apply?"
Pamapuria School, 10km south of Kaitaia, has been run by a commissioner and then an acting principal since deputy principal James Parker was arrested last year on 74 charges of sexually abusing young boys. He has been jailed indefinitely and the principal at the time, Stephen Hovell, dismissed.
Mr Horlock drove seven hours to Pamapuria with his wife, Lizzy, for the interview. He felt good that he had applied but hoped only that the school would find the right person. He was promptly offered the job.
"It is a step up but I'm really excited. I felt like the stars were aligned. It wasn't something I was looking for. It will be a challenge but one I'm looking forward to."
Mr Horlock, who starts in February 2014, said his focus would be supporting the tamariki, teachers and community to improve outcomes and move forward.
Mrs Horlock - Lizzy Igasan before she got married - is no stranger to Northland. She was born in Whangarei and attended Whangarei Girls' High before winning a scholarship to Rangitoto College.
She played for the Black Sticks national hockey team from 2001 and competed at the Olympics in 2004 and 2008. She was captain during the 2008 Beijing Olympics.
The couple have a two-year-old son, Ryder, and are expecting a daughter this Saturday. Mrs Horlock hopes to study psychology.
They met at teachers' training college in Auckland and spent two years in Whangarei in the early 2000s, where Mr Horlock joined the Hora Hora Rugby Club and was selected for the Northland NPC side.
He is a keen touch rugby player, coaching the North Harbour side and captaining the national team that won the Touch Rugby World Cup in Auckland in 2001.
He is originally from Whakatane and is of Ngati Whakaue descent on his father's side and Ngati Porou on his mother's.
Mr Horlock has a Bachelor of Education and a post-graduate diploma in educational leadership from the University of Auckland.