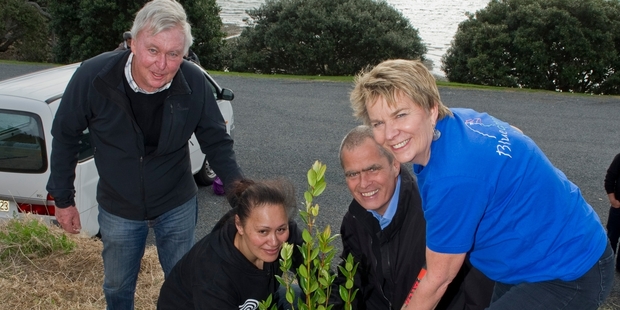 They say oil and water don't mix but add a wildly scenic bit of dirt and you have a recipe for an outstanding conservation success.
That is what Christchurch Central MP Nicky Wagner discovered when she saw how closely heavy industry and community environmentalism co-exist at the entrance to Whangarei Harbour on Wednesday.
The National Party MP visited Refining New Zealand at Marsden and then enjoyed a trip across Whangarei Harbour to plant a tree at Bream Head Scenic Reserve.
To mark Conservation Week, Ms Wagner's hosts took her across the harbour to Bream Head where she met Department of Conservation staff, Ngati Wai representatives and the Bream Head Conservation Trust.
Ms Wagner is chairperson of the Local Government and Environment Committees, and a Member of the Maori Affairs Select Committee, and as a Parliamentary Private Secretary for Conservation, she is both a representative and an advisor for Conservation Minister Nick Smith.
The Bream Head Scenic Reserve is an outstanding ecosystem with unique archaeological, historical and landscape features, including the largest area of coastal pohutukawa-broadleaf forest remaining in Northland.
The Bream Head Conservation Trust was established in 2002 to restore and maintain those natural features, repopulate species such as kiwi - a hugely successful programme - and enhance the recreational and educational potential of the reserve. The Trust's partnerships include iwi, the community, Department of Conservation, Whangarei District Council, Northland Regional Council and the New Zealand Refining Company.
The refinery's unique position at the head of Whangarei Harbour drives the company's desire to protect the unspoiled surroundings.
The refining company has given the Bream Head Conservation Trust $25,000 in the past three years, including funding for an education programme for local schools. The refinery has also supported Mountains to Sea Conservation Trust which runs marine conservation projects, and the Experiencing Marine Reserves summer snorkel programme.