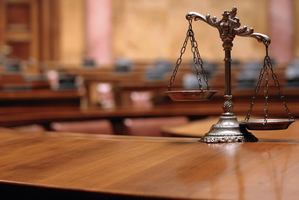 A Northland man who bit off a police officer's lower lip and spat it on the ground while being arrested has been declared not guilty on the grounds of insanity.
The High Court at Whangarei ruled on the mental state of Reo Rangipohewa Uerata, 30, after a hearing and ordered that he continue receiving treatment while staying with his mother rather than be admitted as a special patient at a psychiatric clinic.
On Monday he faced charges of wounding with intent to cause grievous bodily harm, one of assaulting police, one of refusing to give blood specimen and another of disqualified driving.
Uerata was diagnosed with a chronic schizophrenia of paranoia type and Crown solicitor Mike Smith accepted that the only verdict in the case would be not guilty by reason of insanity.
On November 24, 2008, Whangarei District Court disqualified him from driving for two years.
Justice Geoffrey Venning said Uerata was stopped by police on Kamo Rd just before midnight on February 19, 2010 after he was seen weaving while driving.
When taken to a patrol car, he became agitated, aggressive and started making threats.
While being handcuffed, Uerata got out of the police car and bit off the lower lip of a male officer before spitting it on the ground.
Justice Venning said Uerata was pepper-sprayed by a female officer but it didn't have any effect on him.
He was finally subdued with the assistance of members of the public.
The male officer suffered serious facial injuries and his lip and part of his face could not be re-attached, Justice Venning said.
He required ongoing plastic surgery.
In March 2011, the High Court declared that Uerata was fit to stand trial but his mental state deteriorated and a further hearing took place.
In September of that year, the court found him unfit to stand trial and ordered that he receive compulsory mental assessment and treatment.
While receiving treatment as a special patient, his condition improved and the Attorney General then ruled that Uerata be brought before the court. A recent psychiatric report commissioned by defence lawyer Doug Blaikie concluded that Uerata was unaware of the implications of his actions on the police officer as he suffered a disease of the mind.
Report author Dr David Chaplow said being unable to sleep, hearing some sort of voices and believing that he was being watched by police were common symptoms of the psychotic order Uerata suffered from.
Dr Chaplow said while it was not necessary for Uerata to be detained as a special patient, he'd require medication for many years. It was highly likely, he said, that Uerata had been clinically insane for some years before the incident with police.
Police Association president Greg O'Connor said while it was acceptable that mental health issue was a factor in the case, it was unacceptable for such things to keep happening.
"The criminal justice system deals with people with diminished responsibility but there must be systems outside the justice system that deal with such issues."
New Zealanders should be disturbed about the recent attacks on police officers, he said.