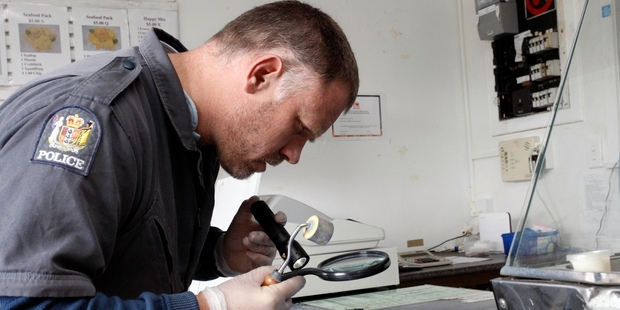 A recent spate of aggravated robberies could impact on the public through closure of businesses as huge sums of money lost during armed attacks make trading unviable, a community leader has warned.
Marcelle Kaipo of Otangarei Trust, which is located in the same building as a takeaway targeted on Monday night, said violent robberies have the potential for flow-on effects that could harm the community in the long run.
A shop worker in Otangarei Takeaways on William Jones' Dr was bashed on the head with a hammer, about six hours after another hold-up, making this the fifth armed robbery in three weeks in Whangarei.
Three men, armed with a pistol, hammer and knife, entered the shop and demanded cash from two workers. One of the men jumped over the counter and struck one of the workers on the head with a hammer.
The trio took hundreds of dollars in cash from the till and ran away.
The worker suffered minor injuries and was taken to the Whangarei Hospital and discharged the same night.
Mr Kaipo described the robbery as an "opportunistic" crime but said it was fortunate children were not around at the time of the robbery.
"What if a child was in that shop when the incident happened? Parents do send their kids to shops here and they could have been badly affected by that experience."
Detectives were in the shop yesterday dusting for fingerprints and talking to locals who may have heard or seen anything.
Also on Monday, a robber with an imitation firearm took hundreds of dollars from the Onerahi PostShop. The imitation gun was recovered by a police canine team a short time later.
Police area commander for Whangarei and Kaipara, Inspector Tracy Phillips, has appealed for public help, saying someone must have seen multiple robbers in their neighbourhood.
"We're really looking forward for some information on the robberies. People must know, we've got more than one offender and someone must be talking about it," she said.
"We've had two [armed robberies] yesterday [Monday] but I don't think two makes a trend. I hope we're not seeing a trend."
She didn't believe the robberies were linked "because a different number of people are involved. I could be wrong but it doesn't appear to be at this stage".
Anyone with information can contact Detective Sergeant Shane Pilmer at the Whangarei Police on 09 430 4589 or Crimestoppers, anonymously, on 0800 555 111.