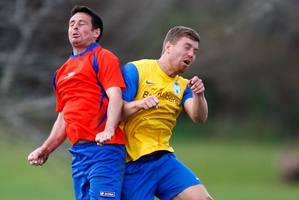 Kerikeri's premier football side has the opportunity to cap off a stellar season when they meet Te Atatu in the Federation One Cup final tomorrow in Auckland.
So far this season - having played more than 20 games - Kerikeri has only lost one match, which was a 2-1 extra time loss to Tikipunga last weekend in the Stafford Choat semifinal.
Club president James Coleman says, with the feeling of losing fresh in their minds, Te Atatu should be wary as Kerikeri look to cap off a near perfect season result-wise.
"They've had a great season," Coleman explained of Kerikeri, who comfortably won the local league. "It's nice to have the league trophy but the Federation Cup is the big one, so they will be hoping for this one.
"[Our game plan this year] has stood us in good stead this season, so more of the same.
There are some very skilful players in the team, they take it to the opposition and move the ball around. There's a bit of formula there.
"There's a bit of quiet effort there to help them get there [winning] on Saturday."
Coleman added this year would be the third time in four years that Kerikeri have made the final without winning, saying that the goal is to change that record.
"Last season we lost to Tikipunga in final, went to penalty shoot-out and we lost 5-4 on penalties from memory. We're hoping this is the year."
Coleman said that going into tomorrow's clash there were no serious injury concerns, adding that everyone was a little tired and managing bumps and bruises from last weekend's match.
Coleman believed the club's success, across all grades, over recent years was due to a number of players being filtered through from the younger grades.
"We have a huge emphasis on bringing those young players through and developing them in the reserve squad.
"[The not-so-secret system is] they learn from the current crop of players, and we make every effort so those players get game time in some of the lesser games of the season. It just gives them an idea of what the whole thing is about.
"It's just looking after them as they come through the age grades."
The Federation One Cup is a knockout competition between Northland and Auckland football teams.