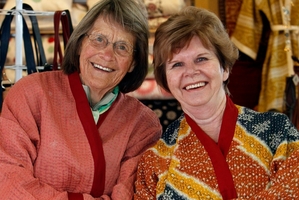 Whangarei woman Ann Heatley is proud to look back over 26 years of voluntary work with Trade Aid during which time many thousands of customers have helped change lives in disadvantaged countries.
Trade Aid New Zealand celebrates its national 40th anniversary this year. Vi and Richard Cottrell started the organisation after returning to Christchurch from working with a new income-generating initiative for Tibetan refugees in northern India. The Cottrells' goal was to "trade with underdeveloped countries and so support the work of self-help organisations through long-term trading relationships based on transparency and fairness".
New Zealand is now the fastest growing market for fair trade goods in the world, and Trade Aid has been a leading example for its commitment to selling only organic and sustainable produce.
While the goal hasn't changed in 40 years, Trade Aid now boasts a network of 29 shops, an online store and sales for 2012 of $18 million.
Ms Heatley and Marjorie Edwards were in the group which founded the Whangarei store. Customers loved Trade Aid when it started and today another generation enjoyed the greatly increased range and quality of goods, Ms Heatley said.
"People whom in the past wouldn't come through the door are now regular customers."
There have been many hundreds of volunteers work in the Whangarei store, said Ms Heatley. She has served as a trustee, still works in the shop and helps with volunteer training and education. She also spent a three-year term on the TANZ governance board which sets national policy and direction.
The Whangarei team is considering how to celebrate the organisation's 40th milestone, manager Rebecca McInnes said.
"This is a chance to acknowledge the huge impact of New Zealand people who have, as shoppers, volunteers and staff, played a vital role in supporting the goals of people struggling to work their way out of poverty.
"Often we underestimate the power of our purchasing dollar but when you hear stories of a new school in Ethiopia, a health clinic in Bangladesh, a literacy class in India and an eco-tourism project in Peru, you do see the impact of those purchases."
The anniversary coincides with the publication of Groundchange: the Story of Trade Aid by Sally Blundell which traces the development of Trade Aid from a handful of small retail outlets into a nationwide movement.