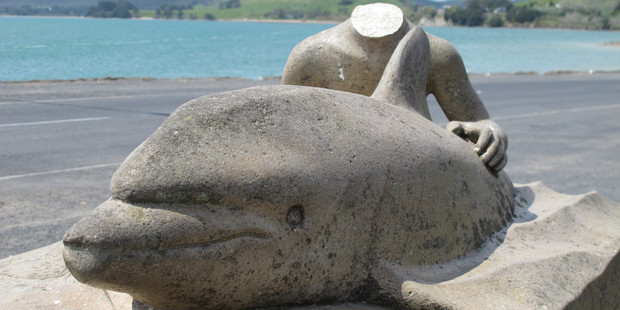 A bronze statue of Opo the dolphin is just days away from arriving in Opononi, almost two years after the stone original was beheaded in an unexplained late-night incident.
The damage to the iconic sculpture, carved by Russell Clark to commemorate the antics of a friendly dolphin named Opo, sent shockwaves around the country and sparked a campaign for a more durable replacement.
A local out for a walk early on October 27, 2011, discovered the boy rider's head been snapped off the statue and was lying on the ground in two pieces.
The sculpture has since been restored but former policeman and publican Ian Leigh-Mackenzie, who played with Opo as a youngster in the summer of 1955-56, launched a fundraising drive for a bronze statue cast from the original.
The new statue is set to arrive on Saturday.
It will be mounted, under wraps, at the same location outside the Opononi Hotel but on a three-tonne black granite plinth.
It will be unveiled at a public ceremony at 11am the following Saturday, September 14, by Far North District councillor and Lottery Environment and Heritage Committee member Sally Macauley.
Mr Leigh-Mackenzie said everyone was welcome at the ceremony, which would be held one month short of two years since the boy rider's heard was broken off.
The entire project had cost $90,000, $50,000 of which had come from Lotteries, with the balance from Pub Charities and public donations.
An Auckland foundry owner had donated bronze worth $5000.
Mr Leigh-Mackenzie said he was extremely pleased with the statue, which was the same size as the original but would be mounted higher. The boy, dolphin and sea were coated in different patinas.
"It really is beautiful," he said. Reprints of Eric Lee-Johnson's classic book about Opo would be available on the day of the unveiling.
Visitors still asked daily about the original statue, which was now at the South Hokianga Museum on Waianga Place, near Opononi Area School. It had been repaired without charge by an Auckland stone restorer.
A plaque on the seaward side of the new statue's plinth would tell the story of Opo, while another on the back would name the donors.