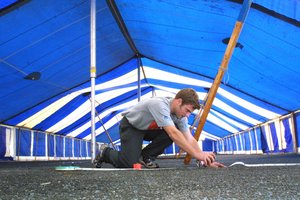 Some Northland children are increasingly lacking basic skills to throw or catch a ball, and need extra coaching before they can play sport.
It comes amid new warnings that couch potato kids who watch too much TV are missing out on vital social and physical interaction.
Sport Northland chief operating officer Brent Markwick said the organisation offered fundamental movement programmes to schools because many children lacked the confidence or ability to get involved in sport without extra coaching.
"Today there's a lot more distractions and a lot more options for kids, and possibly a lot of non-active options," he said.
"Part of the challenge we face at the moment is trying to make sure that sport and physical activity is relevant and is the sort of thing that kids want to do."
His comments come in the wake of a British government briefing document showing children who spend too much time in front of the television or playing computer games have less confidence, are more anxious, and develop depression.
Mr Markwick said one school of thought suggested many modern day children did not have basic movement skills, which made them less confident to play sport.
Although there were numerous reasons for this, he suggested schools were less likely to prioritise physical activity.
Wellington clinical psychologist Josephine Leech, who specialises in child and family issues, said children who spent more time inside and in front of television were more likely to have problems and were not exposed to life's challenges.
"I think [the UK briefing] is consistent with other research about television watching and the effects on children," she said.
"These things are quite well known, that sedentary children who are not out exercising, not out mixing socially, are more likely to have problems, less likely to have concentration spans that allow them to succeed at school and less likely to have exposure to both successes and failures that life throws up and [to] develop a more resilient temperament as a result."
The British study, titled How Healthy Behaviour Supports Children's Wellbeing, was published last week by Public Health England.
- additional reporting
George Driver