Grim task after rented property left in squalid state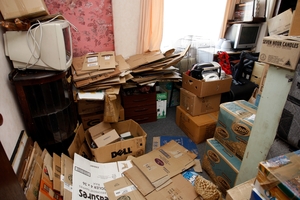 A volunteer fire brigade was expected to today clean a Northland house which an ejected tenant had left in an extreme mess.
But while the house at Te Kopuru alongside the Northern Wairoa River 13km south-east of Dargaville stank of pet urine and was crowded with the tenant's belongings, it wasn't "like those hoarders' homes on TV" as landlord representative Graham Luff had told the Northern Advocate.
The firefighters wouldn't need their breathing apparatus to deal with the clean-up, as Mr Luff had suggested.
And the work they had agreed to do for a donation towards brigade funds wouldn't require fire hoses to shift the rubbish, which wasn't as rank as the collections some Whangarei hoarders have accumulated in the past.
Nonetheless, it was easy to see why Mr Luff, 75, was wound up over the state of the house.
He expected the clean-up, which would include replacing stinking carpet fouled by pets, to cost at least $2000.
The two-bedroom building on West Coast Rd had belonged to his sister-in-law and, when she had died, it was put into a trust to benefit her children.
It had been let by a woman who had turned it over to her son when she moved out and he had not paid rent for months.
Mr Luff said his wife was horrified every time she saw how her late sister's former home was deteriorating.
At one time, the front yard was crowded with trailers full of rubbish, he said.
The tenant had been told to leave a month ago.
"He said he would pay rent arrears, but that didn't happen," Mr Luff said.
"We got sick of waiting and he was told he had an hour to get out."
The tenant had gathered some of his possessions and Mr Luff believed he had moved to Dargaville or Baylys Beach with two primary school age children in his care.
Belongings left behind included gear packed into labelled cardboard boxes stacked in a bedroom.
It is understood arrangements had been made for the firefighters to put the tenant's belongings into the front yard for his collection today.
Mr Luff claimed that before moving into the house the man had fallen foul of another Te Kopuru landlord by dismantling a motor on the carpet of a nearby home he had been renting.