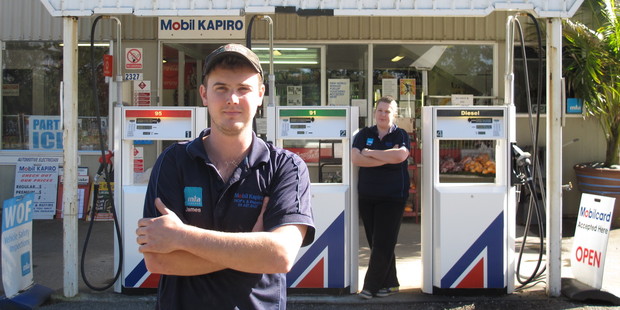 A Far North community is rallying behind a migrant who has been given until October 31 to quit the country after losing a long-running residency battle.
Locals so far have raised more than $1100 to help Martyn Payne, who moved to New Zealand from the UK on an entrepreneur's visa in 2005. He bought the then rundown Kapiro Garage on State Highway 10 north of Waipapa, employs five people and the business is said to have a $2 million turnover.
However, he was refused permanent residency in 2011 because of a long-standing heart condition. The cost of treatment has been estimated at $25,000.
Mr Payne had to leave New Zealand but was then granted an eight-month temporary work visa and a chance to appeal. On Tuesday, however, his immigration consultant advised he had again been refused. His only hope now is an appeal to the Immigration Minister, who can over-ride the department on compassionate grounds.
News of Mr Payne's setback spread quickly on social media, with Kerikeri man Jason Christensen starting a campaign urging people to write to Associate Minister Nikki Kaye and donate to an online account to help pay the family's legal costs. More than 20 supporters turned out on Wednesday when TV's Campbell Live show arrived at the garage for a situation update.
Seasoned fundraiser Deb Shepherd, also of Kerikeri, set up a givealittle.co.nz page called Help keep Martyn Payne in NZ, which by edition time yesterday had raised more than $1100 to help with legal fees.
Ms Shepherd said the looming deportation was "absolutely ridiculous".
"It's really sad that a good man, who does so much in this town, is forced to leave. It's just wrong," she said.
Mr Payne was out of the country on holiday yesterday but his daughter, Nicola George, said she was in shock: "After they let him back in, I thought that they'd fix it this time."
Ms George, who has residency, said her father had been in limbo for years. He had wanted to expand the garage and hire more staff but didn't know how long he could stay. Her brother James, 24, had a work visa via the garage, so might also have to go if their father was sent back to the UK.
As a single mum with three children aged 5 to 19, Ms George relied on her father for support and practical help: "I don't know how I'll manage."
She had been moved, however, by the outpouring of support, messages and donations in recent days.
"I can't believe people would do that, and a lot of them are strangers. It's so nice."
The garage was on the market but with businesses now hard to sell he would have to let it go cheaply and return to the UK empty-handed.
"I'm really worried about him. I don't know what he's going to do."
Mr Payne has offered to cover the estimated $25,000 medical bill himself, as have some benefactors, but under the public health system the state pays regardless.