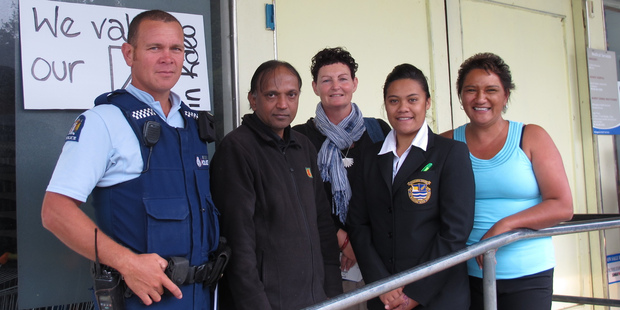 A Far North teenager has succeeded in having her town's main street declared a liquor ban area.
Charlotte Morunga, 17, organised a petition earlier this year calling on the Far North District Council to ban boozing in central Kaeo's public places.
She said a liquor ban would help curb crime and anti-social behaviour, as well as reducing the amount of broken glass littering Kaeo parks. Alcohol played a part in many crimes committed in Kaeo but the last straw had been an alcohol-fuelled attack on German tourists who had stopped at a rest area in the town.
Charlotte launched her petition on May 10 during a rally of support for Four Square owner Hitendra Patel, whose business had been repeatedly broken into by youths in search of alcohol. She was helped by community Constable Richard Avery and his wife Allie, and collected more than 300 signatures. More than 100 people signed on the first day.
Her request was approved by the Bay of Islands-Whangaroa Community Board and added to the Public Places Liquor Control Bylaw at last week's Far North District Council meeting in Kaikohe.
The ban is 24/7 and covers State Highway 10 from Martin Rd to Omaunu Rd; Waikare Ave, Turner St and Cemetery Rd; parts of School Gully Rd and Omaunu Rd; and all Kaeo's public parks and reserves.
Charlotte said she was ''happy as'' that her campaign had succeeded. She believed people would now think twice before drinking in Kaeo's public places, and police would find it easier to deal with potential trouble-makers.
The success of her petition had motivated her to tackle other issues facing the Kaeo community, though she had yet to decide what to take on next.
At last week's meeting councillors also approved a liquor ban in Kaitaia's Centennial Park, but declined a request for a ban in Whangaroa because it had not yet been considered by the Bay of Islands-Whangaroa Community Board. The requested liquor ban would cover Whangaroa Rd from Kent St to the ramp at the end of Ruato Rd, as well as all parks and reserves.
Most Far North towns and coastal communities already have extensive liquor bans.