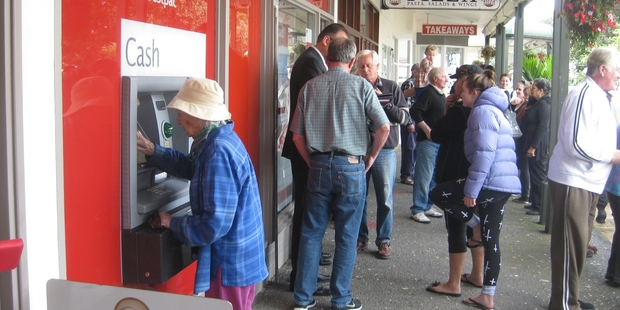 Irate residents and business people of a popular tourist destination in Northland are feeling betrayed by the closure of their only bank.
About 40 people gathered outside the Westpac branch on Cass St in Russell yesterday to voice their disappointment at the bank's decision to shut shop from September 13 and move its services to nearby Paihia.
The closure will force people to catch a ferry for a 9km trip to Opua, before driving to Paihia to access banking services.
Those directly affected said the bank's move could not have come at a worst time, as demand for banking services would increase in summer as between 6000 and 10,000 people were attracted to Russell.
Westpac yesterday confirmed the impending closure, saying the bank was consolidating its presence in Paihia to ensure a sustainable service for the long term.
Russell has a population of fewer than 900 people.
Resident Rachel Birch said her husband Ian had put out a community mail after he received a call from Westpac on Tuesday to inform him about the bank's closure. "People here have banked with them for 40 or 50 years and now they've given us just two weeks' notice [to close down].
"There's a sense of betrayal because we've invested a lot with them over the years," Mrs Birch said.
She said it was unreasonable for Westpac to expect its customers, particularly businesses, to catch a ferry with wads of cash for banking in Paihia.
In summer, she said, businesses needed to do banking three to four times a week.
"There are a high number of elderly residents here and most of them are not computer-savvy. They prefer to talk face to face.
"Six months ago, Westpac came to the RSA here and put nibbles on and asked people here how they could best serve us, but now they want to move away," Mrs Birch said.
A Westpac spokeswoman told the Advocate the bank was telling affected customers about the closure as well as plans to retain the ATM at Cass St.
She said there would be no redundancies as all staff would relocate to Paihia.